Here's a quick look at Splento vs Ooshot:

Splento and Paris-based Ooshot approach photography and videography in similar ways – using an advanced platform to match the customer to the right professional to shoot and film. Where we differ is in pricing and booking. Want to book with Ooshot? Complete the shooting brief, wait for them to contact you and offer various priced packages (a fee schedule is applied, according to the speciality and level of professional experience – you'll receive 3 quotes). Want to book with Splento? We only offer gold standard service (we make no apology for that – you only deserve the best) and our transparent pricing includes guaranteed delivery of photos (24 hours) and finished film (48 hours).

Splento vs Ooshot
Splento and Ooshot both provide great photography services. But did you know that Splento also offers videography – and with the same dedication to quality, customer satisfaction and speedy delivery times?
Splento is already twice as fast at delivering great results as Ooshot – we deliver edited, finished photos in just 24 hours. We don't only say it - we guarantee it.
Splento also does video! Applying the same ground breaking technology that makes us Number #1 for photography, Splento also shoots, edits and delivers video in just 48 hours – that's why we say we are the only photo and video service you'll ever need.
Why choose Splento?

When a company says it is the only photo and video service you'll ever need, it need to be able to back that up. So we do.
Splento came about to meet the needs of visual content creation that were not already being met – quality, reliability and punctuality.

We like to think that our results speak for themselves - but we prefer to let you be the judge of that too
Clutch.co rates Splento 5/5 on a review of 402 Corporate Photographers in the UK – based on verified, independent reviews.
As for other public review forums, at Trustpilot for example, our customers consistently rate us an impressive 4.9 out of 5.0.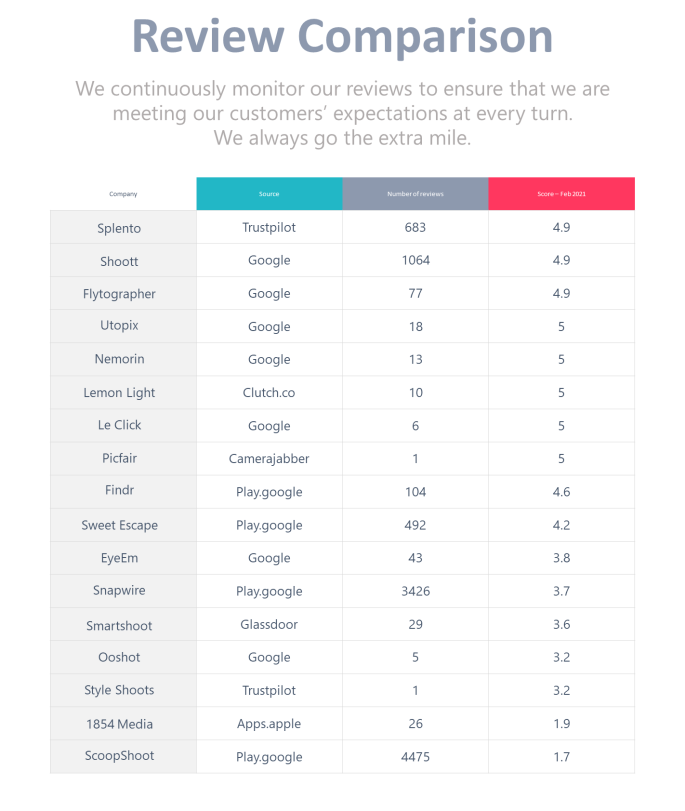 Review Comparison
We continuously monitor our reviews to ensure that we are meeting our customers' expectations at every turn. We always go the extra mile.
But above all else, at Splento, we always go the extra mile.
That means putting our customers, and their experience, first. Always.
What does that mean? Simply put, it means providing a personal service that is second-to-none. For every customer. Every time.
Splento was created to turn the visual content market on its head – and has been doing so since 2015. Whether it has been developing unique systems that integrate seamlessly with enterprise clients, personal photo and video services for individual customers, or just continuously providing consistent results in just 48 or even 24 hours – we have pushed the boundaries of service time and time again. How? Simple. Just by being Splento.
Happy Customers
Those smart people already booked one or more sessions with Splento
Trusted by the best
Just a few of the many corporations that Splento has been proud to work with recently