In our previous post we looked at the Food Delivery Industry's TOP-25 CEOs. As we all know – without an effective CEO, a business is like a rudderless ship headed for disaster.
However, there is another saying that is even more relevant to the food delivery industry: "Ideas are worthless, execution is everything." Without flawless execution it would be impossible to deliver tens of millions of delicious dishes to millions of hungry customers day in, day out.
We always hear about CEOs raising huge rounds of investment, attracting talent and entering new markets, but most of us forget about the unsung heroes who actually make the business tick. If it weren't for the COOs (Chief Operations Officers) – your food would be cold or delivered to your neighbours instead.
Over the past few years Splento's professional photographers have been helping food delivery companies get amazing photos done all over the world, and we've been impressed how effective and efficient these companies are. We've also been impressed by their thirst for innovation and optimisation. Nudged by some of the largest players, we undertook in-depth research into the food delivery industry's problems and challenges and as a result of all these customer discovery interviews we developed a food photography app that – with the help of some clever algorithms and AI – helps restaurants take professional grade photos without needing an actual photographer, thus saving the industry millions of dollars and multiple headaches.
During our R&D process we have spoken to countless restaurants, but also researched and gathered everything we could find about our potential clients (food delivery companies) and in this post we want to share some findings about these 5,000cc engines that run these unstoppable Mustangs (driven by their charismatic CEOs).
Here are some key takeaways:
All COOs (but one) in the TOP-25 food delivery companies are male.
Their average tenure at the company is 4 years.
8 out of 25 top food delivery companies don't have a COO and must be actively looking for one!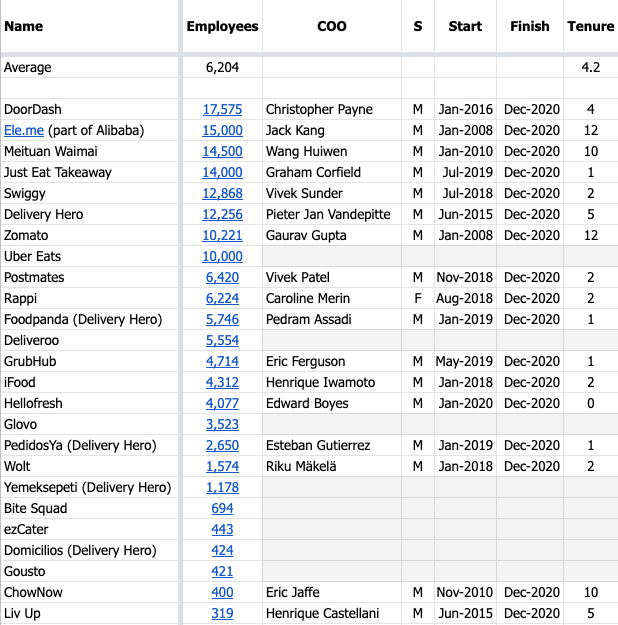 If you found this article useful, you may find other articles about the food delivery industry interesting:
A) Should We All Become Food Photographers – Splento's independent research about restaurant needs and challenges when it comes to food photography and working with food delivery industries.
B) TOP-25 food delivery companies doing visual content right – food delivery companies that actually got their visual content spot-on.
C) Food Delivery Industry's Top-25 CEOs – the ultimate list of movers and shakers in the food delivery industry.
D) Splento's Food Photography App – a professional photographer in your pocket. An app that saves up to 90% on food photography costs for restaurants and food delivery companies.