Grace & Able produce compression gloves and wrist braces that you want to wear. 
Created by a hand therapist and an arthritis patient, Grace & Able have made a name for themselves in the wearable support marketplace. In October, they launch an exciting new range of innovative wrist braces.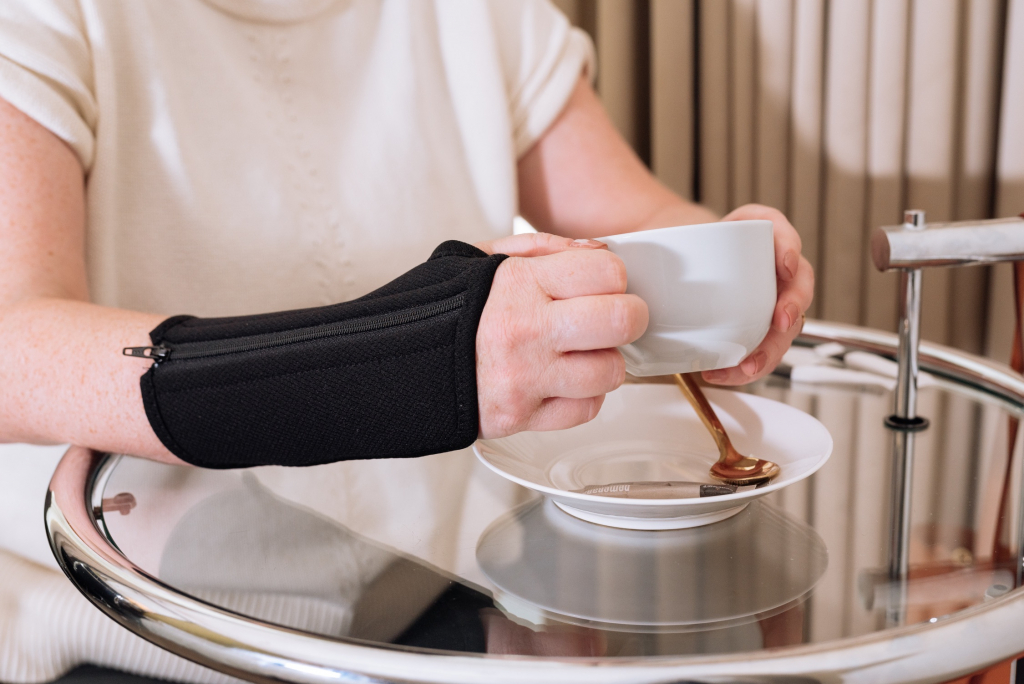 How Grace & Able uses Splento: High-quality fashion photography
New Product Launch: In a few weeks (October 2021), Grace & Able launch a new range of wrist braces and are set to disrupt the joint support industry yet again.
Speedy Delivery: Retouched Images within 24 hours
Fast delivery of the product photographs means that their website and social media marketing could be planned accurately – knowing what the finished images would appear without a long wait.
High-Quality Content: Professional Photographs
Quality products demand quality presentation – in all forms of marketing. Grace & Able's product photography style of modern apparel demands a photographic approach that meets their standards, 100% of the time.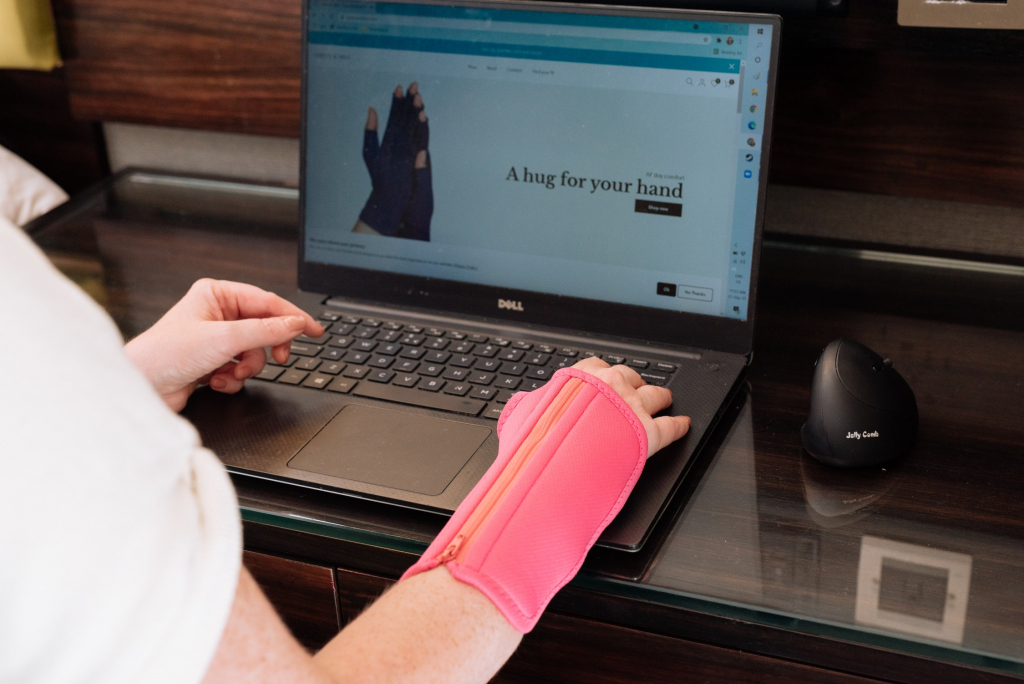 Q & A with Sarah of Grace & Able
Where did the inspiration for the company come from?
Having rheumatoid arthritis myself, I need to wear compression gloves and orthopaedic braces. As anyone in the same position knows, these are unsightly, clumsy and unpleasant to wear. When it came to wearing one at my own wedding, I was fortunate to have a friend who helped me customise my brace to match my wedding dress. And that is where the idea first came about.
But what prompted you to go into business?
When people started to see my wedding photos online, I discovered that it wasn't just me – many others were also looking for joint support wear that fitted in with their lives, not ones that stuck out like the proverbial sore thumb.
Who are the people behind Grace & Able?
Grace & Able is a team collaboration, brought about by myself (an arthritis patient) and Certified Hand Therapist, Trevor Petrie. Between us, we focus on medical effectiveness – which is essential, of course – as well as style and comfort.
What is it that makes Grace & Able products so special?
Standard medical appliances are designed only for function, not form. At Grace & Able, we carefully blend the function of the product with modern apparel fashion, to create a range that customers want to wear and that attract compliments. We have a unique patient-first approach to all our designs. And we achieve all this whilst also making every product easy to wear by adding a simple zip.
Who is the typical Grace & Able customer?
In one sense – anyone that needs a wearable support! But we recognise that most arthritis patients are women, and they do not appreciate having to wear ugly, standard medical supports. And the modern customer not only wants fashion wear, but they want to buy online, through eStores and social media. So that is what we do.
We know that your compression gloves are great looking, but what are they like to wear on a day to day basis?
In a word – comfortable! And I speak from personal experience. Our wrist brace contains a patented splint that is half the weight of a standard one; this makes it incredibly easy to wear, even every day. And we carefully select the fabrics we use for all our products, making sure they are breathable, comfortable and have moisture-wicking properties. On top of all that, we manufacture in different sizes to suit each individual, so there is no need for bulky one-size-fits-all standard offerings.
What is next for the company?
Watch this space! We currently have our range of colourful compression gloves that are really popular. But we are also very excited to announce that in October we launch a range of innovative wrist braces – so make sure you check those out when they arrive! On top of this, we have many other ideas which we are taking through development and are keen to bring to the public as soon as we can.
How do great visuals help you reach your customers?
Visual content – for us, product photography – is vital. We like to use a mix of flat lay images and lifestyle shots, so our customers can really understand and imagine what it will be like to wear and own one of our braces. Quality and customer satisfaction are so important for us – so having the right images online to help them understand what it is they are buying – is paramount.
How important is visual content to you?
Very! People love to see the development of our products and the impact they have on people's lives.
Apart from the high-quality visual content you received from Splento, was there anything else that added to your experience?
Just how Splento understood what we wanted and set out to achieve exactly that – they managed to create in photographs what was in our minds.
Could you sum up your overall experience with Splento in 3 words?
The same as our products – straightforward, high-quality that works.  
---
Contact Splento if you are in need of:
Event Photography and Videography