Easter Monday this year falls on the 5th of April so you might be contemplating ways to experience the forthcoming Easter fun. If you're stuck on Easter ideas, how about decorating your home as part of the upcoming festivities? Easter home décor is a great way to incorporate some of the Easter fun into your life, and it doesn't have to be costly or time-consuming. Making some handmade decorations is a great activity to do with your kids or loved ones, and not only livens up the home but makes the experience all the more fun. Here are some of our spring-fresh ideas for Easter decorations.
1. Painted eggs
Our first idea to get cracking with is a classic. First, you should blow out your eggs before you decorate them. Pierce the egg by pushing a pin in both ends. Then make a hole in the base with a cocktail stick. Push the cocktail stick in to break the yolk, twist a few times and then pull it out. Hold the egg over a clean bowl with the base pointing down blow through the smaller hole at the top. The air will push the contents out of the shell and into the bowl.  Once the eggshell is empty, place it in a bowl with warm water and washing-up liquid and rinse it through, before leaving to drain on a kitchen towel. Once it's completely dry, you're ready to decorate! Feel free to get creative with paints, glitter, sequins, googly eyes and anything else you fancy!
2. Eggshell planters
This is a great idea, combining Easter eggs and springtime flowers. Carefully crack the top third of the egg with a knife, and gently pull it apart with your hands. Before repurposing eggshells, it's a good idea to make sure they are clean, so rinse the shells inside and out, making sure to remove any residue that may be stuck inside. Rinse them gently with warm water and washing-up liquid, and then leave on a kitchen towel to dry. Once they are painted, you can pack them gently with soil and add some small flowers from your garden to your new festive planters. Blooming lovely!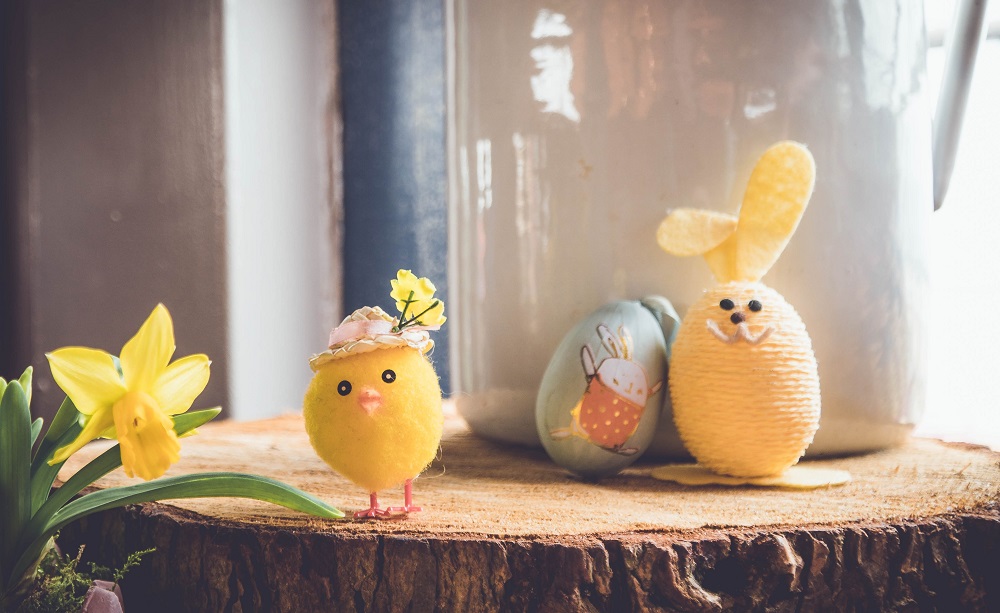 3. Easter candles
Home-made candles are also a lovely addition to your Easter home décor. To make Easter candles, you can repurpose eggshells using the same method as the eggshell planters. Once cleaned, either paint and decorate your eggshells or leave them natural for a rustic look. You can buy wax melts from a supermarket or craft shop. Melt the wax using a burner and carefully pour it into your eggshell base. While the wax is still hot, insert a trimmed plain cotton string, which will act as your wick. Once cooled, you will have a lovely eggshell candle to use, or keep as an ornament to reuse next Easter. Place on a bed of flowers for a unique centrepiece.
4. Spring mantel
This idea is all about making your mantelpiece a central feature of your Easter décor, which will look especially lovely when you receive cards from your friends and family. Grab all of your vases and odd jars and fill them with flowers from the shop or your garden, and arrange them to be the attention-grabbing feature of your house. Get creative and your other Easter paraphernalia, such as Easter eggs and chicks for some festive flourish. This will be the perfect backdrop for your Instagram photos.
5. Easter sweets vase
To make a special centrepiece for your Easter dinner, create an eye-catching vase. Get any vase or clean jar, and fill it up with mini chocolate eggs or jelly beans, and then place your flowers in them. Tie a bow around the vase with some twine or ribbon for a finishing touch. After dinner, you can spill all the sweets and share them around.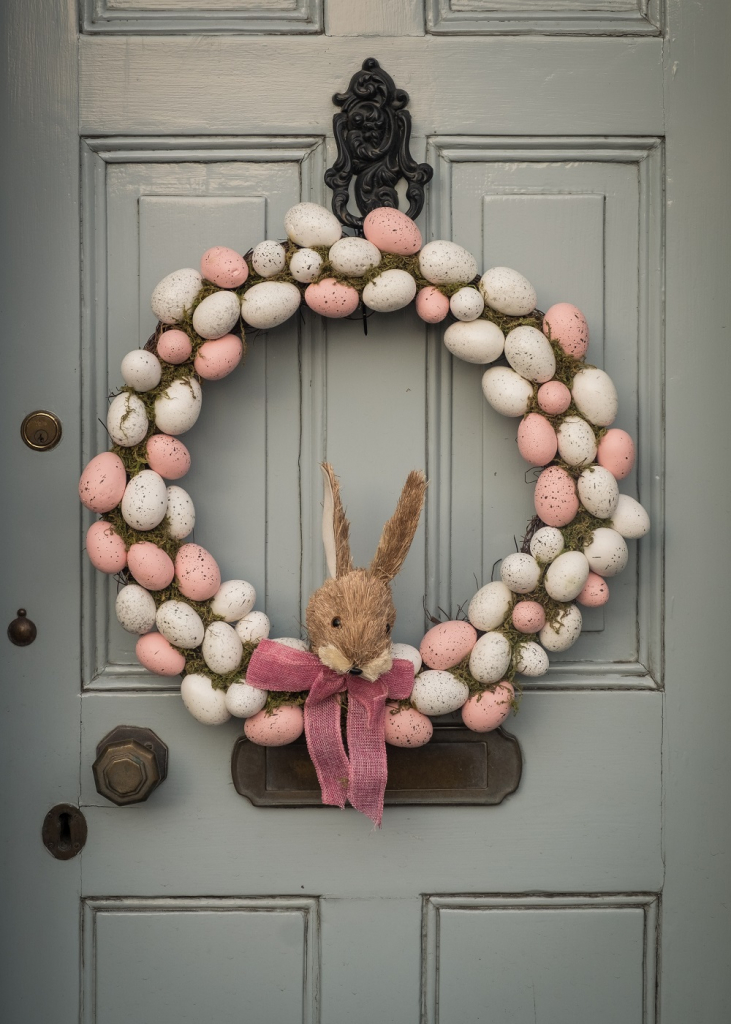 6. Floral Easter wreath
A floral wreath on your front door is the perfect way to celebrate Easter. For this, you will need thin branches or twigs from your garden, a hot-glue gun, string, flowers, and some ribbon. The twigs will form the basis of the wreath, so collect as many as possible; the longer the better. Arrange them into a wreath shape, and glue them together using the hot-glue gun. Once you have a circular shape glued together, tie-up with some string in several places to keep it secure. Now for the fun part – get a bunch of flowers, and tie them to the top of the wreath with a colourful ribbon. If you don't have any twigs or don't like the rustic look, you can use pipe-cleaners from a craft shop for an arty alternative.
7. Easter bunny bunting
This is an especially cheap and cheerful idea to hop into. For this, you will need paper and pencil, string, glue, and some cotton wool. On paper, draw out twenty identical Easter bunny silhouettes. (You can print a template off to trace.) Cut them out, and glue a piece of cotton wool onto each one to be its fluffy bunny tail. Punch a hole through the rabbits' heads to put your string through. Once you've done that, your bunny bunting is ready to hang.
8. Easter egg bunting
This is another simple Easter décor idea, using Easter egg shapes instead of bunnies. Using colourful paper cut out eleven egg shapes. Then, write one letter from 'Happy Easter' on each of them. Once you've cut them out you can punch a hole through them and string them through. You will have an attractive banner with eggs spelling out your 'Happy Easter' greeting.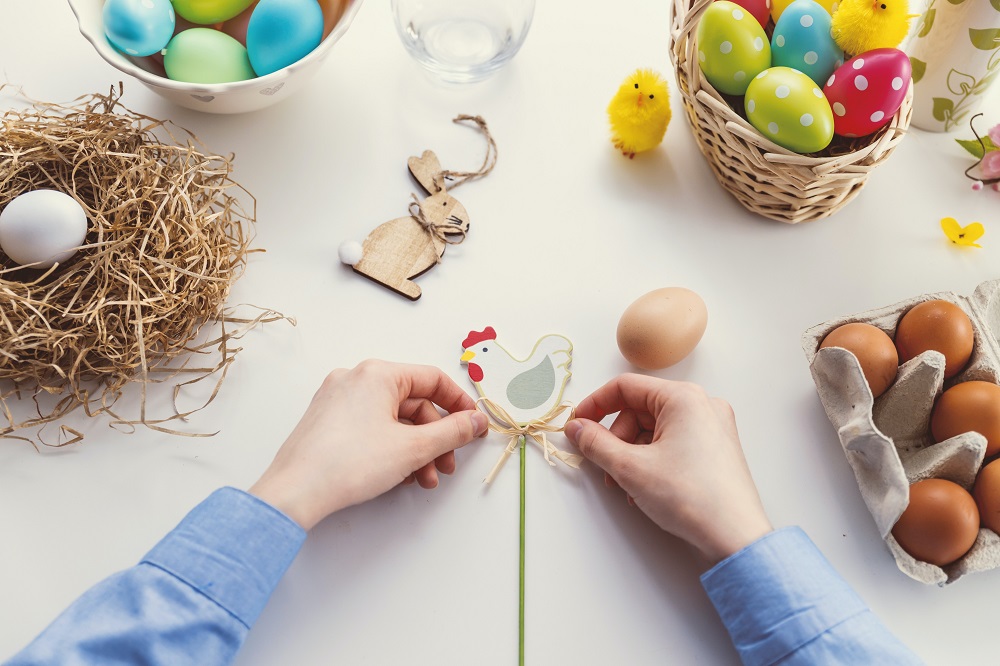 9. Easter bunny flowerpots
Take your flowerpots that already have flowers in and give them a whimsical Easter touch by creating the illusion of the back of a rabbit hanging out. You will need cotton wool, white and pink felt, and glue. To create a rabbit tail, glue a few pieces of cotton wool to create a medium-sized rabbit tail. Using the white felt, cut out two rabbit feet shapes, and using the pink felt cut out 3 pink circles for the rabbit footprint, and glue them onto the white felt. Once you have made the feet, glue them onto the bottom of the cotton wool, and glue the cotton wool to the rim of the planter.
10. Easter basket
This Easter home decoration idea encompasses all of the above. Get a wicker basket and get creative, filling it with flowers, decorated eggshells, sweets, chocolate eggs, handmade bunnies, and whatever else you can think of. You can decorate it with handmade bunting, and tie ribbons and flowers around the handles. This basket will also make a wonderful centrepiece for your table.
---
Need some more great ideas for family photography over these holidays? Here are our top 10 ideas for family holiday photo ideas for you to enjoy over this break.