When you need a business video – whether it's a launch, a live event or even a product video for your eCommerce store – it's your choice of production partner that will determine its success. You want the best video production company in London, naturally, but finding the right one is not always that straightforward.
You need a team that intuitively understands your business and how to communicate your message with impact. One that has the flexibility to work the way you work, where you are, and to your brief and budget.
You need a team that makes your life easier.
There are many professional videography services based in London (we know – we've looked), and your first challenge is what attributes to look for. First, decide exactly you're your project needs, then once you know what services you need, you can make a list of your key criteria, before beginning your research.
---
To give you a head start, we've put together an attribute list of some of London's top video companies.
We took five different businesses and listed the main features of each, based on information currently advertised on their websites.
The London Video Company, based in Barking, describe themselves as makers of video in a wide range of styles and formats. Cherryduck provides many video services from their studios in Wapping. Kartoffel Films in east London produce both live-action and animation videos. London Video Production in Brick Lane has a background in social documentary, and this helps them find the human stories behind the message. Finally, we (understandably) included ourselves as well.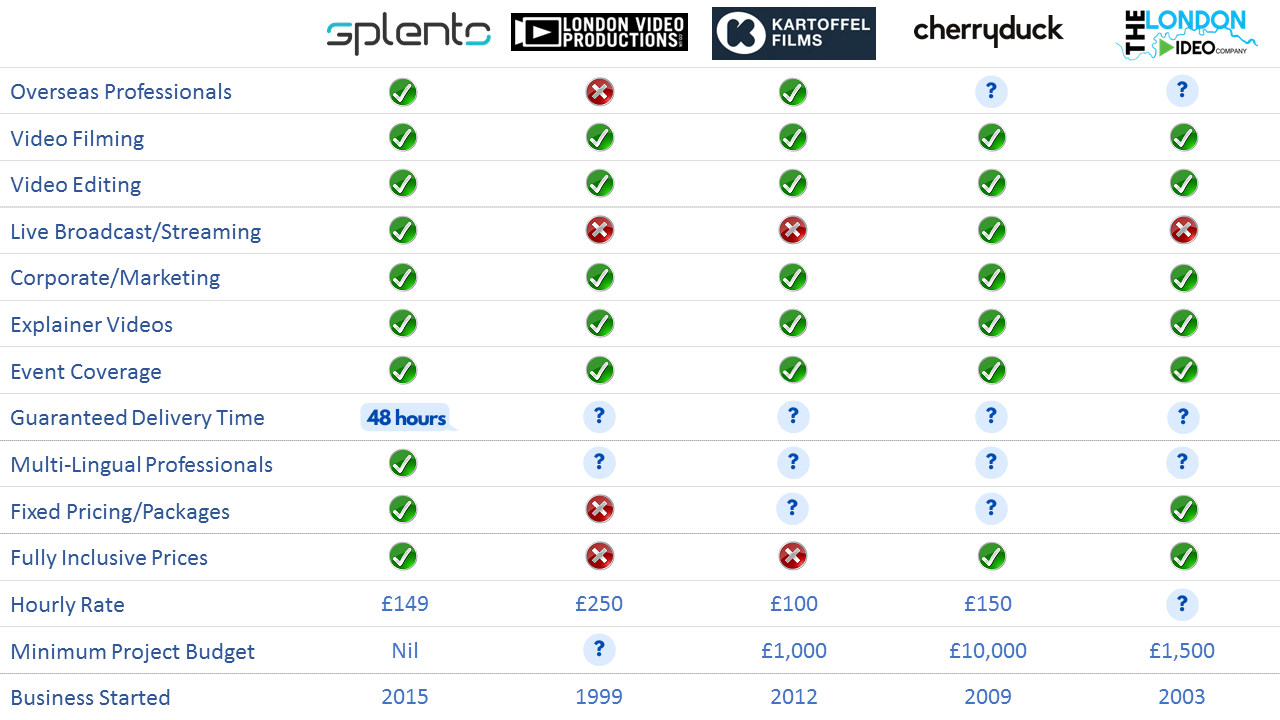 As you can see, we have a lot in common and we have some subtle differences as well. Whichever London video production companies you look at, the above list covers some of the points of interest that you may want to be considering.
If you have any questions regarding video production in London (regardless of who you finally partner with), then we are happy to help answer them – so feel free to get in touch with us today.
For a more detailed discussion on what to look for when finding a suitable partner for your video production (and it really is a partnership) then we suggest you start with how to find video marketing experts near me.
---
About Splento
We help our customers use visual content to drive sales by offering the following:
Fast turnaround – guaranteed
We will have your video footage filmed, retouched/edited and first cut delivered back to you within 48 hours – and we guarantee it.
Reliable on-demand service
All our services exactly when you need them, Short notice? No problem. We operate at your convenience – not ours.
Global coverage
We are available wherever you are, whenever you need us. When we say global, we actually do mean it.
Proven technology
All our services backed up by robust, bespoke technology, making sure your video and photos are available and secure 24/7.
Fixed pricing
We have transparent price plans which suit every budget – no hidden extras.
How do we do it? Well, rather than scale price according to the size of your order, Splento has scaled their entire video process so that the lowest prices are available for everyone – regardless of the size of your order.
We always go the extra mile
Our answer is always yes – now, what's your question?
Get in touch with Splento today if you have any questions regarding your videography project.