Whether you're just starting out or you've been behind the camera for years, your photography business deserves the best possible website. 
Thankfully, template website builders have made the process of developing one easier than ever. Now photographers can easily create an online store that matches their talent, whether they're trying to sell prints of their favourite shots or get their freelance careers off the ground. 
Using our own experience as webstore builders and photography professionals, we've pulled together a list of the best eCommerce platforms available to photographers today, helping guide your choice and give your business a great digital storefront. 
Recommended reading: A picture can be worth a thousand words, but sometimes you need a description to really win a customer over. Check out our guide to writing strong product descriptions to improve your sales and win over cautious buyers. 
Big Cartel
Big Cartel has emerged as a favourite amongst young artists and creatives across the world in the last few years. It's an eCommerce platform that puts creative expression at the heart of its functionality, offering smaller artists the opportunity to experiment with eCommerce in a flexible, low-cost environment. 
For photographers experimenting with a number of different platforms, Big Cartel is absolutely worth a try. 
The platform's free plan offers users a brilliant base from which to launch their creative career (learn more in this review). With the free plan, you can sell up to five products free of charge, which absolutely suits budding creatives with a limited portfolio trying to build interest in their brand. 
Big Cartel isn't just a great starting point though. It might lack the room for massive growth that some other platforms do, including those we'll talk about later, but that said, the option to sell in-person through the use of an app and more-than-competent SEO features makes this platform one that you can really grow with through the early years of your photography career. 
However, a lack of variety in theme and design options does mean you're stuck with a fairly rigid functionality. One where you must hope your photos do the talking for you. 
Squarespace
Squarespace is a reliable website builder for freelancers and small businesses in just about any industry. Their sites are known for their beauty, adaptability and mobile responsiveness. If you want a website that's as simple as it is visually impressive, you can't do much better.
In terms of a high-end platform that will make your photography look impressive, there are few better options out there than Squarespace. 
Their premium plans are inexpensive, and even the most novice webstore builders will quickly pick up how to make simple changes. On the cheapest 'Personal' plan, users still get unlimited bandwidth and storage, making it easier to sell a wide variety of products. And as any good photographer knows, uploading and storing high-resolution photos requires a lot of bandwidth. 
Squarespace features some of the most beautiful photography templates around, giving you the room to really make your work pop out off the screen. The wide variety of themes on offer makes it easy to find something that suits your brand, and quickly switch things up should you want to focus on a particular style or product. 
With brilliant blogging features and great SEO add-ons, Squarespace is a brilliant beginner option for new photographers (especially students, thanks to its 50% off offer) looking to give themselves a professional edge.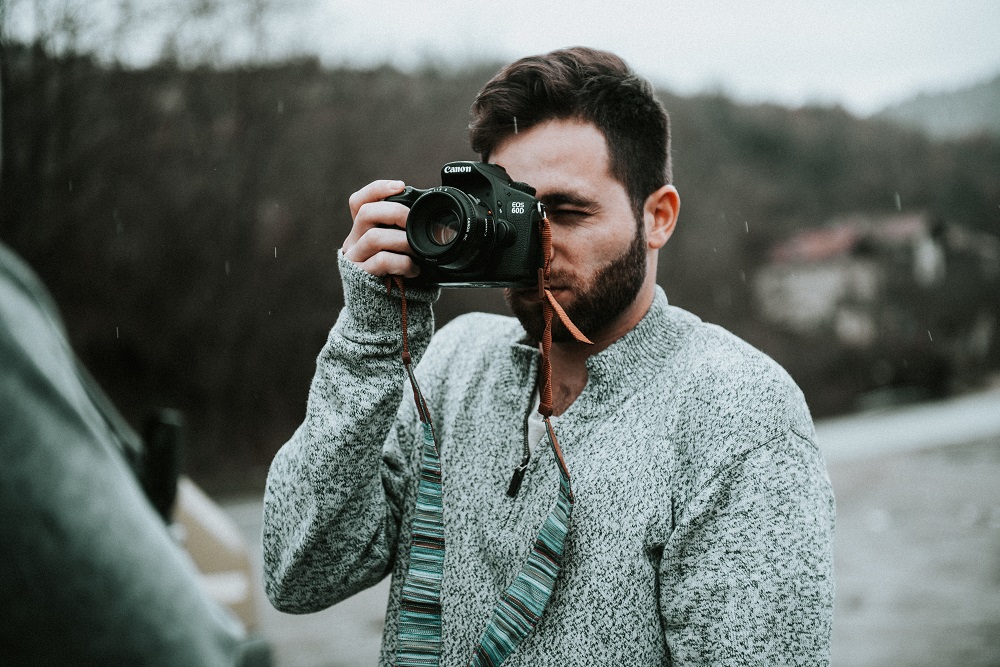 SmugMug
If you're focused on selling as many photos as you possibly can with little hassle, SmugMug might just be the eCommerce platform for you. 
It might not be one of the biggest names in the industry, but the out-of-the-box functionality of SmugMug makes it easy for budding photographers to create products and charge per photo download, offering customers an accessible, instantaneous service. 
On top of that, you can sell prints and gifts using custom price lists without the need for additional app integration that many other platforms demand. That's especially appealing if you're a first-time store owner looking to make some quick cash. 
Since SmugMug is a specialised photography store builder, it includes a number of additional features many other options on this list will struggle to compete with. Right-click copyright protection, the option to add watermarks, unlimited uploads, and synchronicity with Lightroom are just a few brilliant features that photographers will cherish and are all available across the pricing plan. 
If you can splash out on the features, SmugMug quickly starts to show up other store builders. A truly brilliant showcase platform. 
Weebly
If it's affordability you're after, Weebly has you covered. 
This powerful little platform offers budding photographers and seasoned freelancers a way to show off and sell their shots within a sleek, flexible design. However, this doesn't come without a cost, as Weebly has gained a reputation for being quite inflexible within its easy to use design. 
While the Weebly app centre is bursting with cool features, Weebly itself is pretty straightforward. You won't be able to create anything visually groundbreaking, but strong product pages and good blogging features mean there are plenty of opportunities for your content to speak for itself. 
Two apps, in particular, are essential for selling your images. These are:
Digital downloads:

For selling digital downloads

Printful:

Custom printing and fulfilment service
Both turn your Weebly store into a great showcase for your photography, where prospective buyers can pick up quality images for their use then and there. 
---
There you have it, our picks for the best eCommerce platforms on offer to photographers right now.
Most platforms feature free trial options if you're looking to shop around, and these are no exception. 
Agree with our list? Which platforms have you found success with in the past and are most interested in trying?  Let us know below:
---
Contact Splento if you are in need of:
Event Photography and Videography