Did you know that visual email marketing is one of the most profitable ways to reach customers? According to the Data and Marketing Association, in 2019, businesses saw around $40-45 for every $1 spent on email marketing.
Chances are, you don't open every email that is sent to your personal account – but there are plenty you do, even if you don't know the exact sender. Additionally, you are more likely to take action on certain emails more than others. 
Whether or not you take action has to do with a number of things including if you trust the source and how visually appealing the email is. This is where visual email marketing steps in. We're going to tell you the best visual email marketing practices that you should be following in order to see an increase in your conversions, sales, and overall return on investment. 
Keep reading to find out more!
First Up: Build Your Email/Subscriber List
In order to create a successful visual email marketing campaign, you will first have to have an email list. There are multiple ways to go about this, including using social media, giveaways, and gated content on your website. 
Using social media is one of the easiest ways to build your subscriber list as there are several platforms to choose from. Many entrepreneurs find that using the 'live' features of various social media sites allows them to engage with their customers and send them directly to a landing page that asks for their information. 
You can use social media to promote giveaways that are offered in exchange for a user's email address. The idea here is not to rely completely on social media for sales, but instead, use it as a lead magnet.  
Additionally, using industry-leading automation tools like Aweber to automate your emails is a great way to build a list of interested subscribers and engage with them regularly. Once you have an email list, you can start sending out regular emails and begin building relationships with those who are interested in what you have to offer.
Your Target Audience's Attention
Before your audience ever sees the full email from your business, they will see the subject line. Because of this, it is of utmost importance to have an attention-grabbing subject line that tells your reader why they can't hit the delete button. 
A personalized subject line is one way to grab attention as is a quick snippet telling the reader what's in it for them. This may be access to exclusive content, the notification of sales/promotions, or letting your audience know that there is a new product they have to see. If nothing else, throw in a bit of humor – people love to laugh! 
Whatever is in it for them should be briefly expressed in the subject line. Basically, this is the chance for your email to be seen and to avoid the delete button – this is why it is so important for you to nail this aspect of visual email marketing. In addition, you should also pay attention to security measures such as when you encounter a no DMARC record found issue or email authentication. 
A Note About Emojis and Gifs
In addition to the use of an eye-catching subject line and great content, you may wish to include emojis or gifs relating to your topic. The use of these graphics is not considered unprofessional and will usually add to your content rather than detract from it when used appropriately.
Emojis will convey the intended mood far better than words and may give the reader a sense of relatability to your company. Using a gif is a great way to include humor or even show the need for quick action.
Don't completely overuse either one of these items, but sprinkling them throughout your visual email campaign can help your readers feel as though they're chatting with a friend rather than an impersonal business. These tools can also lighten the mood of an otherwise serious-sounding email. 
Keep it Personal
You will see great returns on your marketing emails by keeping the messages personal. As mentioned, including their first name in the subject line is an excellent way to personalize as well as sending the email from a team member's account. Opting to send marketing emails through a named account will make the recipient feel as though there is a relationship between them and the business, ultimately building trust.
Consider segmenting your email list in order to better meet your audience's needs. If this sounds like a lot of work, don't worry. You can easily perform a mail merge from your main Excel document into several Google documents to categorize each group of intended recipients. 
Doing this allows you to send out variations of the same email to different groups that will offer more personalized content with very little extra effort on your part. This will also ensure that your marketing efforts aren't put to waste by incorrect targeting. 
No Spamming – Offer Engaging Content
The biggest difference between regular email marketing and visual email marketing is the use of images. Some people have this idea that visual email marketing is nothing but images and their campaigns' results reflect this. 
Pretty images are great, but sometimes the point of the message can be overlooked. To avoid this, make sure to have a text overlay giving the call to action or opt for an infographic type newsletter. 
If you're not sure how to create a newsletter, it's a relatively simple process. In fact, there are plugins and platforms that allow you to drag and drop the images or text you want to expedite the job. 
A visually-stunning newsletter will help build your brand recognition. It will also allow you to offer interesting content that is engaging to your readers, yet not overwhelm them with big blocks of text. 
The idea here is to send content that is helpful, that users look forward to, and actually want to read.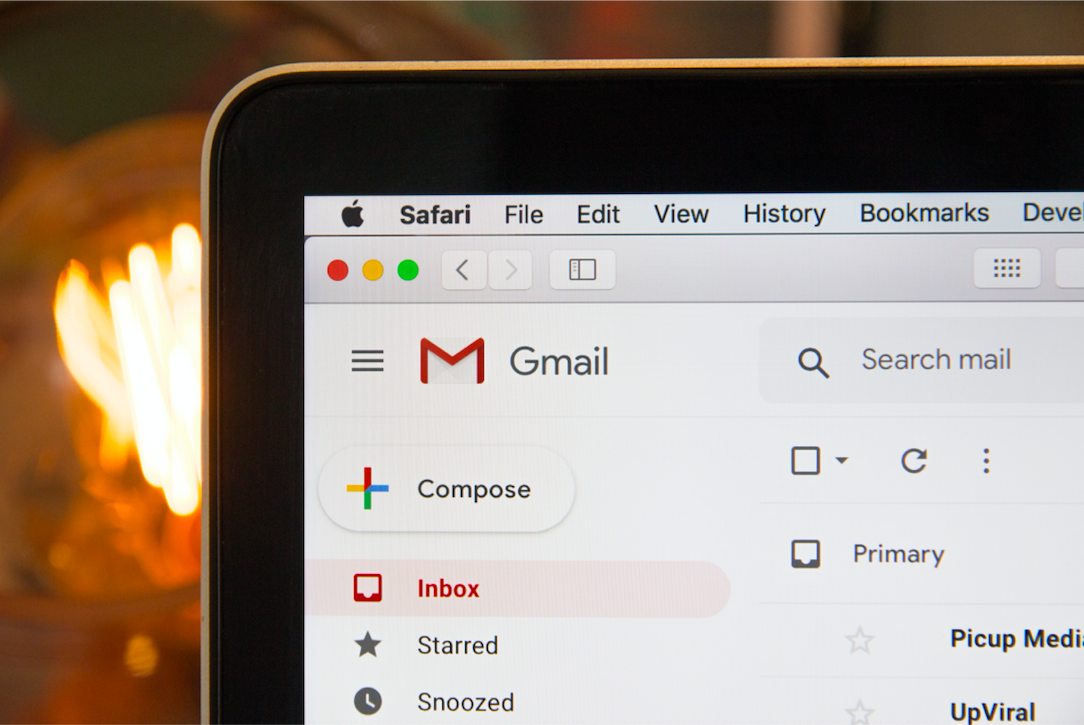 Photo by Webaroo on Unsplash
Visual Email Marketing: An Overview
Truly, there isn't much difference in visual email marketing versus standard email marketing. The biggest differentiation between the two is the use of images to convey your point and help call your readers to take action. 
To see full effectiveness when it comes to your visual email marketing campaigns, be sure that the content is optimized for mobile devices and gets directly to the point. Keep in mind: emails can get deleted in as little as three seconds if they don't load correctly for mobile users. Email marketing is a powerful tool both for large and small businesses – here are some more ideas for your small business to test. 
The last thing to remember about visual email marketing is to have fun with it. Try to look at the email through your audience's eyes.  If the email is boring or the call to action is difficult to read, understand, or otherwise missing, the reader won't act. Similarly, if the images you choose take away from your message (instead of adding to or enhancing it), opt for different photos. 
---
Contact Splento if you are in need of:
Event Photography and Videography