Couple photography poses
If you're looking for creative couple photography ideas you've come to the right place. Many couples want to celebrate their relationship and express their love by trying couples photography. However, many of us can feel camera shy when we are expected to show an intimate side to ourselves on camera – even if we know the person taking the photo! When you have the right photographer, they will make you and your partner feel comfortable to open up so they can capture your love for each other on camera. 
Knowing the right couple photo pose can also give you the confidence you need to be your authentic selves on camera. Whether you're looking for couple photo poses at home, or a 'new couple photo pose', you can't go wrong with these romantic couple poses which will have you looking like the smitten lovebirds that you are.
1. Standing close and looking at each other
Standing poses for couples are great as they are typically more dynamic and at the moment than seated poses. Standing close together creates a romantic portrait, and the photographer can crop closely to create an intimate portrait. One partner can hold the other partner's face in their hands. 
By looking at each other you create the impression of a candid photo, but you can also create a more posed portrait but holding each other and looking into the camera.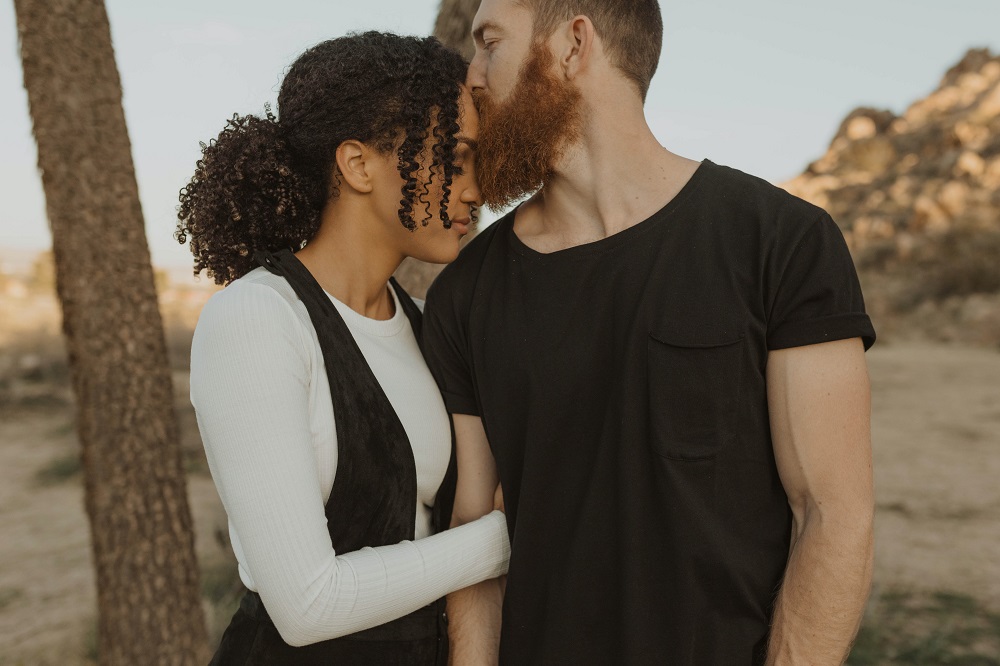 2. Standing and kissing
What's more romantic than a kiss? One partner should place their arms around the other's neck and have their partner's arms around their waist. If this is too much PDA for you, try the 'almost kiss' where your faces are angled towards each other, just about to kiss. Or try kissing and concealing your face with a prop e.g. a hat, to provide a veil of secrecy for you and your partner, whilst creating a romantic image.
3. The forehead kiss
For couples who aren't comfortable canoodling on camera, the forehead kiss is a sweet alternative. Stand close with your arms around each other, and lean in for the forehead kiss. 
4. Touching foreheads
In addition to the forehead kiss, even embracing your partner with your foreheads touching is a chaste but intimate pose.
5. Hugging from behind
The hug from behind is a classic romantic pose, and it allows both of your faces to be seen from the front in the photograph. You can either look off in the same direction or look at each other.
6. Looking into the distance
If you have a beautiful location for a photoshoot and you are looking at photography poses for couples outdoors, looking into the distance is perfect. Standing with your backs to the camera and looking out into the beautiful horizon symbolises the couple looking to their beautiful future together.
7. Lying down and looking up
A popular outdoors pose for couples is lying down and looking up, with the photographer taking the shot from overhead. This could be lying down side by side together or lying in opposite directions with your heads next to each other. This close-up portrait with both of you looking up is laid-back and fun and expresses the playfulness of your relationship.
8. Lying down and looking at each other
Lying down and looking at each other is another effortlessly intimate pose. Again, you can be side by side or lying in opposite directions with your heads next to each other.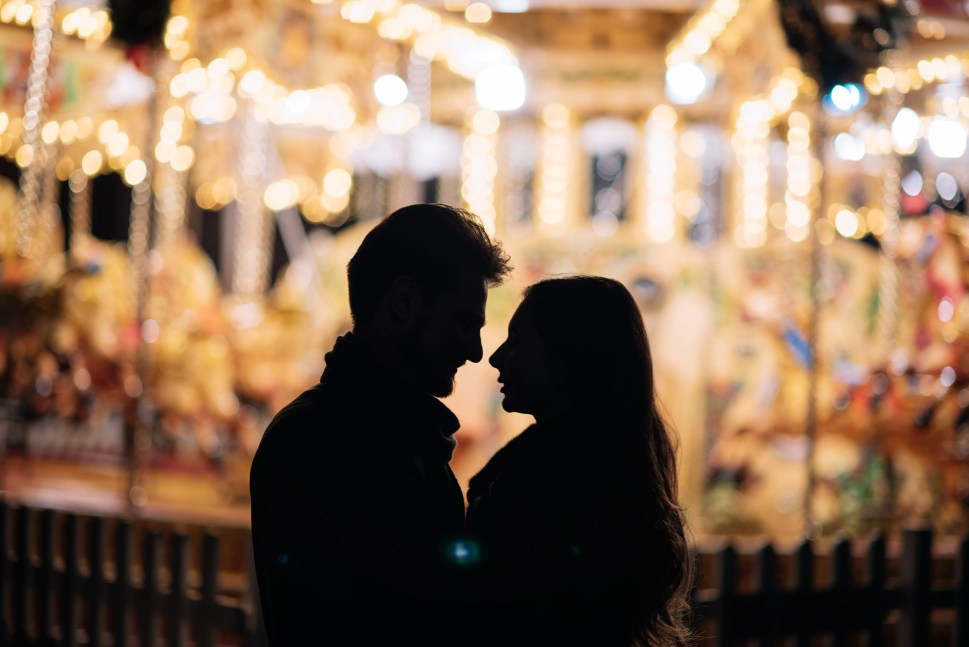 9. Holding hands
No matter the season, a romantic stroll is always a beautiful photo opportunity. Walking together and holding hands makes a beautiful photo, and your photographer will have plenty of opportunities to get some authentic candid shots.
10. The lift
If you want a pose that offers a bit of fun, one partner can lift the other one. This doesn't have to be a Dirty Dancing style lift – just a lift-off of the ground will do! A piggyback can also be a cute and quirky pose for the fun-loving couple.
---
Now that you have these effortlessly romantic poses in your back pocket, you can have your couples photoshoot with ease!
Need a photographer for your couples' photoshoot? Book a professional couples photographer with Splento. Splento provides you with affordable, professional, and reliable on-demand photographers for your best photography experience yet. 
---
Contact Splento if you are in need of:
Event Photography and Videography
eCommerce Photography and Videography