Just when we thought we were settling down into our new normal, Facebook has come along and pulled the rug from under the feet of all eCommerce platforms – and yes, we include Amazon in that statement as well.
In case you missed it, Facebook has just launched (19th May) Facebook Shops – a new service they are rolling out across both the Facebook and Instagram platforms – with Messenger and Whatsapp to follow suit later.
They are allowing businesses to create digital storefronts which will either redirect you to the retailer website or enable you to purchase directly within the Facebook app. This will work concurrently on both Facebook and Instagram.
As you probably know, there is a form of 'shop' available on Instagram already, with retailers able to tag posts so that they can lead the viewer through to their eCommerce platform, but the ability to sell within the apps themselves is ground-breaking.
---
This could be a double whammy for many eCommerce platforms and their retailers.
First, Facebook / Instagram already have thousands of businesses currently showcasing their products on the platforms; they have just been handed an incredibly valuable tool to sell direct now, without the distraction or negative customer experience of having to go elsewhere to purchase.
Secondly, those new to eCommerce are already familiar with the platforms and will be much more confident to jump in and start trading – as opposed to committing to a giant like Amazon or learning to navigate a new, unfamiliar interface.
Having said that – those platforms aren't left out either – as Facebook has teamed up with several other eCommerce platforms (Woocommerce and Shopify among them), which will see increasing integration between all these platforms.
Shopfronts are customisable, products can be grouped into collections, and your inventory can be uploaded from a spreadsheet, or entered directly into you Facebook catalogue, which gives access to anyone – even those not currently with an eCommerce store.
They also are offering direct-to-store messaging for support, delivery tracking and other queries, and are developing loyalty programs too.
eCommerce is about to see a big rise in competition.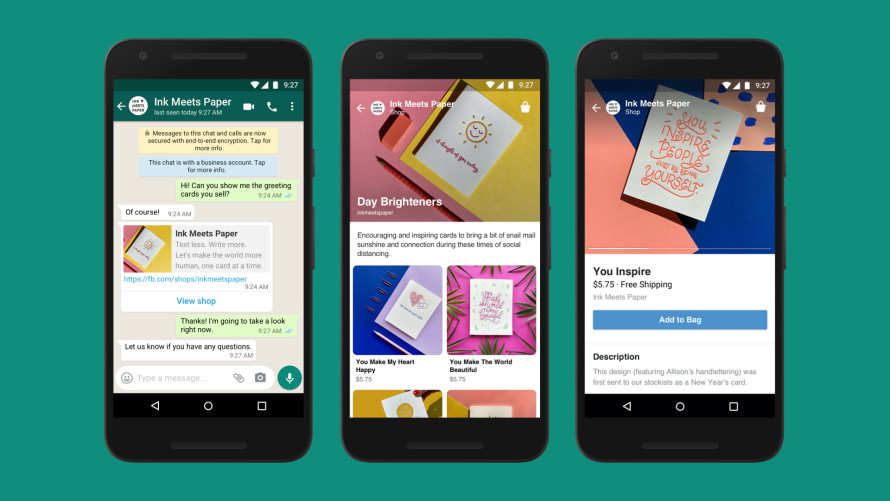 In addition to this, Facebook is reportedly going to enable users of Livestream broadcasts to tag their products in videos.
Live shopping. This is the amalgamation of live streaming, immersive marketing and content experience that we talked about here just a few months ago – read this article on marketing trends for 2020 for more on that.
Imagine being a viewer watching a Livestream video. The presenter talks about a product you like the look of; all you do is click through the video straight to the Facebook store – and the product is already there waiting for you!
No competition, no distraction. Just your customer buying in the emotional moment of the video.
So what?
So where does this leave eCommerce? Well – 'with an amazing new opportunity' is the answer.
We have been talking a lot recently about the importance of visual media – product photography and videography – in eCommerce; now that is doubly true.
To get (or stay) ahead of the curve, talk to Splento today about getting your catalogue of product pictures and videos up to date and Facebook-ready.
Facebook was due to roll this out much later; the coronavirus pandemic has given them the opportunity to bring it forward by months so they can capitalise on the massive increase in online shopping we are all currently experiencing.
Not all these features will be available from day one, as they have pulled the start date forward so quickly, but there is one thing that should be there right from the start – your eCommerce store!
Make sure you are not missing out. These new Facebook features are coming to your customers very soon – so be ready.
Facebook. The new normal for eCommerce.