Augmented reality is an advanced technology that allows users to perceive added digital elements to their regular vision, often through smartphones and other handheld devices. While most people associate AR with the gaming industry augmented reality is growing to become a popular marketing tool to provide incredible user experiences through a convenient mobile medium. 
Why use AR in marketing?
Augmented reality is an emerging marketing trend that can provide customised brand-related experiences. The next decade will see a rise in augmented reality applications in sales and marketing offering increased as well as improved business opportunities. 
With the recent world-events looking to remain with us for some time yet, leveraging the power of AR in people's homes (via their mobile devices) may yet become one of the best ways to reach out and connect to customers in the next months and years.
The use of AR in marketing campaigns isn't the norm of the industry, so if you move quick enough you can be one of the few brands in the world to leverage the power of AR for marketing. 
Here's a great example of AR in action, as used by National Geographic a couple of years ago:
Interested? Here are a few ideas to help you incorporate augmented reality into your brand strategy. 
1. Try products virtually
An augmented shopping experience is perhaps one of the best uses of AR for a brand. With the tedious processing of purchasing a product, augmented reality can be the next best alternative for potential customers. It can replace the need for fitting rooms, cosmetic assistants and other such requirements by allowing customers to try on clothes and make-up without having to physically interact with the products.
2. Add digital elements to brand materials
Augmented reality can turn plain old brand materials like brochures, business cards and posters into more interactive ways of communicating with customers. With augmented reality, users can scan any printed material to access a range of digital features added on. For example, a poster of an upcoming movie can be scanned to watch its trailer or a business card can provide a link to the professional's LinkedIn profile. 
3. Increase brand awareness
Brands can also use augmented reality to create a buzz around their products or services. AR is more of an unconventional marketing tool and isn't very commonly used by brands. So when customers come across marketing campaigns that use augmented reality, it's bound to spread fast. For example, when Google released its 3D dinosaurs, everyone was talking about finding a T-Rex in their kitchens.
A great example of this was the beer 'Far From Home' (image below). When pointing a mobile device at the can, the design came to life and gave the customer reviews of the beer as well as its development story.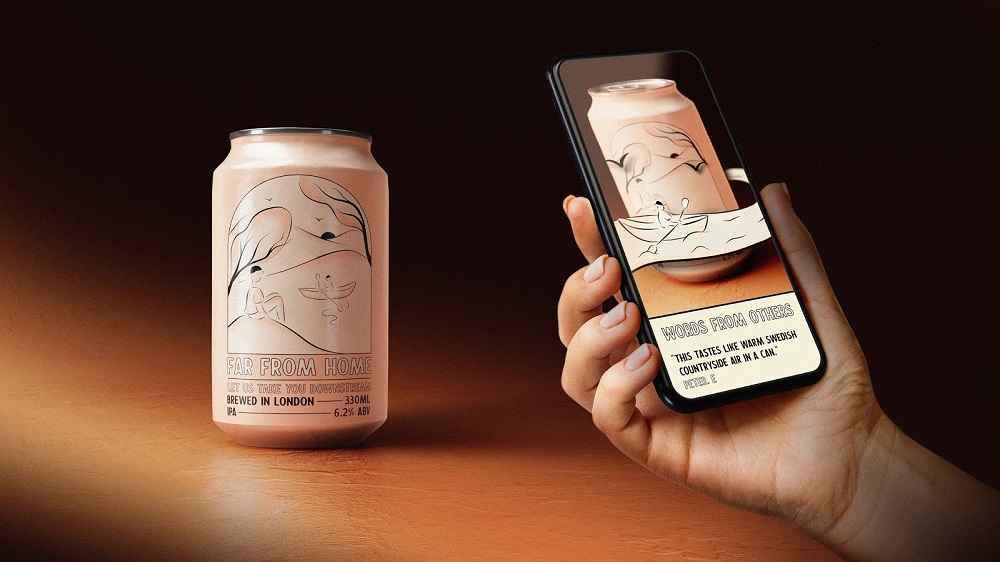 4. Augmented tours
Augmented reality can also be used to add a virtual touch to physical tours. Brands can add virtual elements like text, pictures or videos to specific physical locations to either inform or entertain the user. A retail store can allow customers to scan products to gain more information about the product or its usage. Even a tour of a museum can use AR to impart useful knowledge of their pieces simply by scanning the room. 
5. B2B sales tool
Augmented reality can be a revolutionary tool when it comes to sales pitches for other businesses. Whereas previously B2B sales were facilitated by paper materials such as brochures, it now depends on video or PowerPoint presentations.
Soon, however, sales teams will be harnessing the power of augmented reality to give a unique and customised experience for businesses. 
---
Augmented reality aims at making customer experiences more interactive and highly responsive. Plus, AR is a one of a kind tool that isn't widely adopted as a marketing strategy so diving into the technology can give you a first-mover advantage on the marketing front. 
With augmented reality catching up to the front-end of business operations such as branding and customer services, it's safe to say that virtual reality isn't far behind.
Want some help or direction using AR to promote your business? Call Splento today to find out more.