Being pregnant is a joy that many people have, and a way to remember this precious moment is by having a photoshoot with your pregnant belly. Throughout 2020, everything was shut, meaning that professional maternity photoshoots could not happen. But now, with 2021 coming to an end in a few months, life is slowly coming back to how it once was – including maternity photoshoots happening again. 
If you are expecting, want to do a maternity photoshoot soon and you're curious about what poses to do, here are ten amazing ideas to try. 
Include a pet
For many people, before they bring a child into their life, they have a furry friend. If this is you, why not include your dog or cat – although dogs are more likely to sit and stay still during the photoshoot, it can still work with a cat (you'll just need more patience). Many animals can sense when a person is pregnant, and it's nice to catch that moment when the pet's nose is poking the belly.
If you want to include your pets in the maternity photoshoot, remember to make sure the photographer knows what you plan – and also to bring some treats!
Reflection 
Have your back against a mirror to create an illusion of two of you being pregnant. This unique idea will result in a stunning photo. To be more creative with this maternity photoshoot, you could lay down, hand cradling your pregnant belly. Then do another photoshoot when the baby is a few weeks old, with your hands holding onto your baby who lays on your stomach. After editing these two pictures together, the reflection illusion will give you a beautiful photo.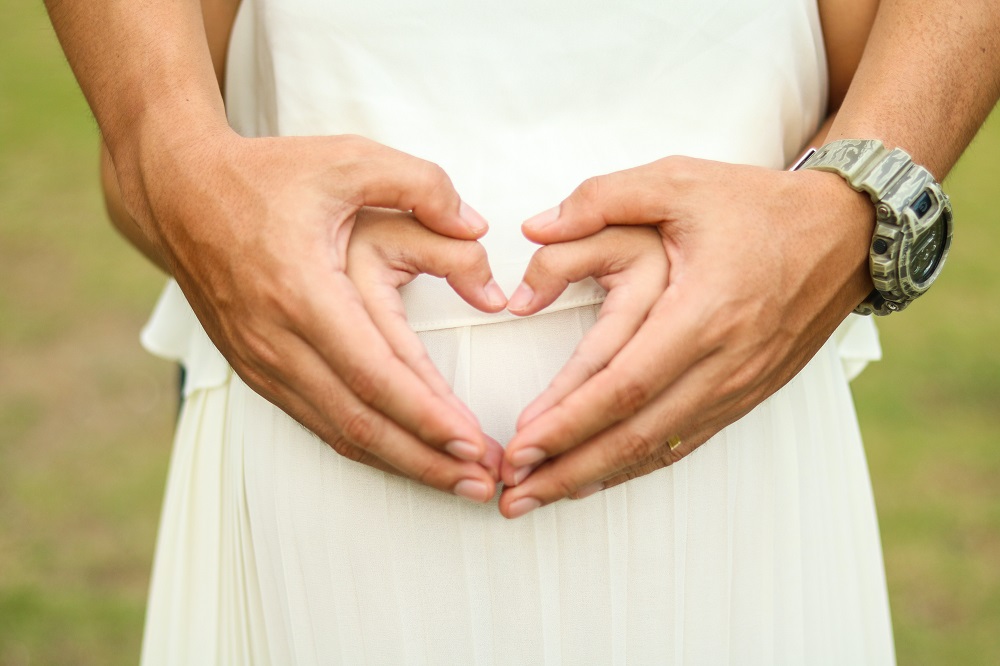 Silhouette 
This idea might seem like a common one, but it's a great way to show your pregnant belly if you don't want to reveal too much. The silhouette creates the perfect balance between revealing and concealing. Although people who will see this photo will be able to view the belly, it still keeps some of the magic private. This is a great maternity photoshoot idea if you feel uncomfortable when being photographed, especially at this time.
Milk/Rose Bath
If you want to try to do something unique and artistic, then this maternity photoshoot idea could be the one for you. This can be done in the comfort of your home, and before starting the photoshoot, prepare the milk bath. To do this, you can use warm water and powdered milk – but remember to whisk to get rid of the cornstarch. 
Although it might take some time to prepare for this photoshoot, the outcomes are beautiful. Decorate the bath with roses and blue orchids; these colours on a white background will create a memory to remember. 
Have the belly painted
If you are an artist, or know one, why not get creative and paint a masterpiece on your belly? If you are not sure what to paint, then why not think of what is happening seasonally around you? If your photoshoot is happening around Halloween, you can use that theme and paint a pumpkin. However, if it's happening during spring, use warm colours and paint some flowers and sunshine.
Outside
Using natural light will always result in beautiful maternity photos. The background will already be picturesque, so there is no need to add any more elements to it. Why not try to do this photoshoot during a sunset. Photos that are taken during golden hour are always stunning and breathtaking. The dewy, warm light will highlight you remarkably and give out a magical feeling.  
Baby props
By the time the maternity photoshoot comes around, you have most likely already bought some belongings for the baby – some shoes, toys, clothes, etc. During the photoshoot, you could add another layer to it and hold up a pair of shoes or a baby onesie over your belly. To avoid taking the limelight from your pregnant belly, limit yourself to only two props per photo.
Nude
Some people might crawl away from this maternity photoshoot idea, but why not be adventurous and try this idea? There are many reasons why a pregnant person should pose nude, but most importantly, you will never look like this again. No matter how many pregnancies you will go through, every single one is unique, and your body will never look exactly like this again. Doing this can make people feel that they are in touch with their feminine side as well as nature.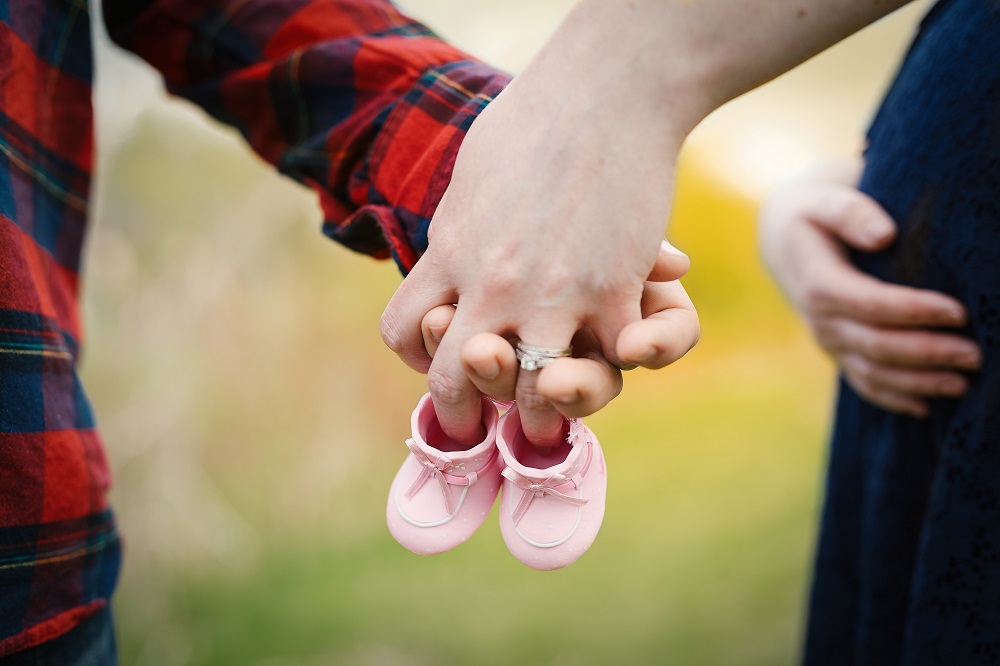 Older siblings
If you already have a child, why not include them in the photoshoot. Not only will they feel super pleased to have been included, but it will show the bond of the siblings even before the birth. On top of that, this means not only are you celebrating a new baby, but you will also be celebrating that your first child will become an older sibling. 
Flower field 
This maternity photoshoot idea is spectacular when it is spring or summer on a warm day. To do this, go to a lavender field and surround yourself with purple – this makes for a beautiful shot, as the colour represents strength and transformation, a great analogy for pregnancy. A tip is to dress in a flowy white dress, as it will create a stunning contrast with the flowers. Just remember to cuddle your pregnant belly and smile. 
---
If you are interested in doing a maternity photoshoot, Splento can provide you with a professional photographer at a fixed hourly rate. The price includes all post-production and delivery of the finished photos within 24 hours. 
Contact us today to begin your maternity photoshoot journey.
---
Contact Splento if you are in need of:
Event Photography and Videography
eCommerce Photography and Videography