The marketing world is dynamic. Trends, technologies, and tactics are always flowing. Thus, it's crucial that your business is updated with the latest innovations in marketing. But how can you be sure you're keeping up with the times? How to make your business relevant in the stormy today? Video marketing is the key. What exactly is video marketing and how to make it work for your local business? Here at Splento, we know the answer.
Statistics of Video Growth
Let's start with some general points on video marketing.
Video marketing is the content of the future.
Video is a viral and memorable way to reach a varied audience with a short attention span. Think of The Old Spice Man. Could we really have a more recognizable video marketing campaign?
Video marketing is a content strategy leader in the marketing world.
Video marketing engages with your audience at a higher level than video advertising.
In 2020, the popularity of video marketing reached a new peak. According to Small Insights, 92% per cent of marketers say that video is an important part of their marketing strategy. This has grown from 78% in 2015 meaning that the importance of video is only increasing.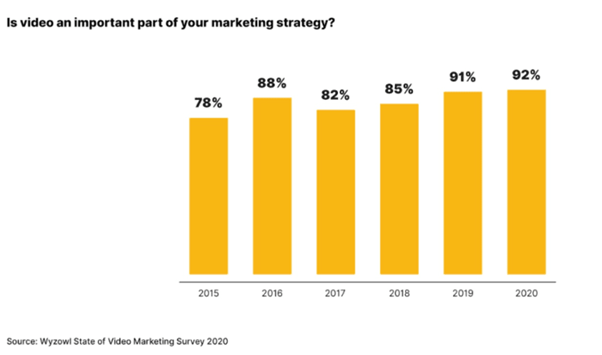 It's predicted that the average person will watch 100 minutes of online video each day in 2021. So what makes video marketing a favourite promotion tool?
A survey showed that 88% of marketers say video marketing provides them with a positive ROI. 92% admitted that video is an important part of their marketing strategy.
Hubspot experts also reveal that video drives a 157% increase in organic search engine results when embedded in your website Meanwhile, 64% of consumers have said that video directly influenced their decision to purchase a product or service.
By 2021, the video will account for 82% of Internet traffic. Thus, "those who do not jump on board will be at a great disadvantage".
Guide on How to Implement Video Marketing Into Your Business
#1 Start With a Plan
The plan is the first thing one should think of. No matter how tempting it may be to start right away without spending too much time planning your strategy, resist the temptation. Before shooting, it is important to give yourself a certain direction. This way, you don't waste time creating content that doesn't resonate with your target audience. And this leads to the next tip.
#2 Determine Your Target Audience
A key to a successful marketing campaign lies in knowing who your target audience is.
The clearer your understanding is of your audience, the easier it will be to market to them. It makes sense to create a customer identity (avatar), a tool that will help you narrow down the potential customers to whom you want to sell your product or service. This makes it easier for you to adapt the content to the right people.
#3 Utilize Explainer Videos
Explainer videos are just the beginning of a journey. Introduce yourself on your website. Tell the world about what you do. Be natural, and don't try to seem too formal. A user wants to understand what you're offering and what makes your services unique. This can significantly increase your chances of appearing on the first page of a search. Besides, explainer videos are a great way to entertain. e.g, by using a comic routine, you can make the audience captivated from beginning to end of the video.
#4 Use Closed Captioning
One of the most ignored aspects of video marketing is the use of closed captioning. This is the process of displaying the text of the video to provide additional or interpretive information. You've probably seen this in various movies, TV shows, YouTube, Netflix, and other similar services.
So why do you need accurate captions for videos aimed at promoting your brand? The answer is simple. Most of your videos will be posted on social networking sites such as Facebook, Twitter, and Instagram. Very often, the users of these platforms watch videos with the sound off. So If your videos are comprehensive without sound, they have lower chances to be skipped. Audio is played only when the user clicks on the video.
#5 Optimize Your Videos and Target for Each Channel
Depending on the channels you choose to run your campaigns, you need to make sure your videos are optimized to be as engaging as possible. For Facebook, this means brevity, uploading videos directly to the channel, and adding subtitles. For YouTube, this means waiting two weeks for the video to change and improve your audience.
When it comes to video optimisation for Twitter, you need to focus on optimised targeting, from keywords to a device, but not overdo it. This way, you make sure you can easily track which campaign works best.
#6 Make the Intro Stand Out
These are the first seconds when a person decides whether they will watch your video or just skip it. With a proper beginning, even a non-gamer can get attracted to the CSGO betting sites – or choose otherwise go surf for kitten videos. You have only three seconds to capture your viewer's interest.
#7 Build a Social Media Calendar
A strict social media calendar is the basis of most video marketing plans. A properly-composed one allows you to create your content in a timely fashion, without a last-minute rush. Within your calendar, you'll be able to set your goals for each video and define the topic for every video. By doing so, you can make your content more diverse.
Besides, you will always keep a balance between organic and paid content.
#8 Go Live
Speaking directly to your target audience is the best way to reach them and show that you're relatable. This is why live streaming has reached its peak now in the sphere of online marketing. Online broadcasts are the communication tunnel between your company and its customers. Live streaming has a whole range of benefits. This is the time when customers may ask questions and receive an immediate reply. Besides, talking to the audience creates a more lively atmosphere.
Benefits of Video Marketing
Helps Establish Connections
Video content can embrace any topic. It can be funny, educational, inspiring, or heart-warming. Videos resonate with audiences and their emotions more than any other tool. Video can help put a face to a name and allows an audience to see the genuine nature of your business and offerings. Isn't this a compelling argument for starting your video marketing strategy?
Videos Can Improve SEO
High-quality video content that boosts viewer engagement and piques consumer interest can drive traffic to your website. The more traffic and clicks your site's videos get, the higher it will be ranked in the search engine results pages.
Videos Lead to More Conversions
Videos offer a more detailed description of your product or service. Engaged users are also more likely to retain the message and trust brands more after watching a video. This trust will eventually lead to conversions.
Videos Captivate Users for a Longer Time
In his Forbes article, TJ McCue stated that "the average user spends 88 per cent more time on a website with video than they do with any other type of content"  Thus, by adding videos to your website's pages, you can increase the number of time visitors spend on your site.
To Summarise
Video content can be used for anything. It is engaging, and what is more important, an effective tool for promoting your business. Proper video content can make your company reach the top of the market search engine results and generate a positive ROI. Now, when you're aware of the latest video marketing strategies and tactics, you will absolutely succeed in empowering and improving the position of your small business.
---
Author Bio
Karl Murphy is a professional journalist from Des Moines, Iowa. After obtaining his Master's degree, he's launched his career and over its course, Karl was contributing to the popular publications for men. He's passionate about eSports, so now he develops his blog csgo-bettingsites.com.