As we described in our overview, the photography industry is worth billions but is impacted by consumers' disposable income and also by commercial spending. But what does the current competitive landscape look like and just how easy is it to operate in the industry?
Chapter 2 of 5:
An overview of the competitive landscape
Are there any barriers to entry?
The majority of businesses in the UK are sole traders and SMEs, who can usually suffice with a home office and travel to shoots. However, those wanting their own studios have higher operating expenses due to rental of space, lighting, equipment, etc. and this is evident more in the US market, which is dominated by larger firms.
Digital innovations have allowed more amateur photographers with little industry knowledge or know-how to enter the market, which has helped to increase competition and drive down prices within the photographic services industry.
And while the high cost of professional equipment may have discouraged some from entering the market previously, technological advances and reducing costs are making it much easier for new entrants.
Industry Regulation
Whilst there is very little overall industry regulation, there are other, broader rules and regulations that impact the industry. 
The introduction of General Data Protection Regulation (GDPR) across the EU in May 2018 governs how a firm must deal with the personal data of clients and aims to protect individuals within the European Union. This extends to companies outside of the EU who hold the information of EU citizens. Whilst this would not particularly impact the majority of overseas operators, who primarily work locally, there are some global firms for which this would apply.
In the US, photo processing labs are regulated by the Environmental Protection Agency (EPA) because they use hazardous chemicals. However, with the rise of technology and digital processing, this is unlikely to affect most modern operators.
Technology: Good or Bad for the Photography Industry?
A recent research report published by Technavio identifies that the growing use of technologically advanced services will continue to have a positive impact on the photography market. A senior analyst at Technavio is quoted as saying:
"Apart from the growing use of technologically advanced services in photography, factors such as the increasing demand for special occasion photography, and the growing popularity of photography on digital media platforms will have a significant impact on the growth of the photography services market size during the forecast period."
On the flip side, the rapid improvements in technology do pose some threat to the industry, with consumers now able to take high-quality images which they can then process, edit and distribute by themselves. The impact of this DIY philosophy is mitigated by the continuing need for professionals, who are highly knowledgable about how to take the perfect picture, from shutter speed, lenses and lighting to composition and more. Additionally, new services such as digital editing have created employment for those who can digitally enhance and retouch photos to bring them to life using software like Adobe Photoshop.
What threats are there to the Photography Industry?
Internally, the industry has a high level of competition with pricing being a key competitive factor alongside the ability to meet deadlines.
Externally there is also a high level of competition, this time coming from the falling cost of cameras and camera equipment, as well as the improving quality of smartphone cameras. This has resulted in a DIY photography economy, putting increasing pressure particularly on those providing portraiture services. Additionally, hobby and amateur photographers have entered the market due to the low barriers to entry, increasing competition in the private consumers' segment.
The rising popularity of stock photography is also a threat to the industry, as businesses turn to online image libraries to fulfil their visual content requirements rather than hiring an industry professional. 
Additionally, there is the threat of loss of revenue due to digital copying, although this may be somewhat discouraged through forms of digital protection such as the use of watermarks and software encryption.
What does global market share look like?
Globally, demand for still images is growing, with photographic businesses operating within a single region, country or even within a specific local area. Here's an overview of the global photography industry in terms of market share by region: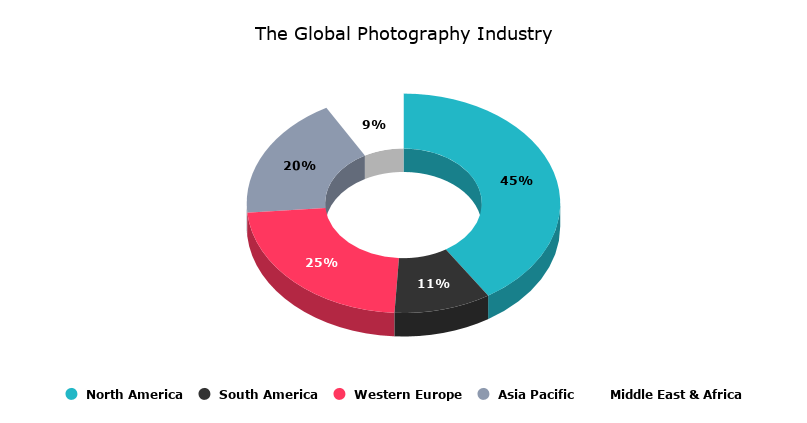 As you might expect, North America holds the largest market share globally, with Western Europe being the second largest market – a reflection of the high purchasing power within these regions. In the Asia Pacific, high levels of growth are expected in emerging economies due to the exponential rise of social media popularity in the region.  
In both the UK and US markets, the industry is fragmented. The majority of businesses in the UK are small, owner-operators and there are very few large operators. The level of globalisation within the photography industry is low and is expected to remain low, highlighted by the high number of firms employing fewer than 10 staff and there is no single company accounting for more than 3% of industry revenue. In fact, the largest UK photography company is H Tempest Ltd – a family business with 80 years of experience, offering portraiture and group photography to a number of different customer segments. 
By contrast, the US market is dominated by larger firms with over 100 employees although the majority of studios are still privately held and owner-operated. Perhaps one of the most well-known photography companies is market-leader Getty Images US.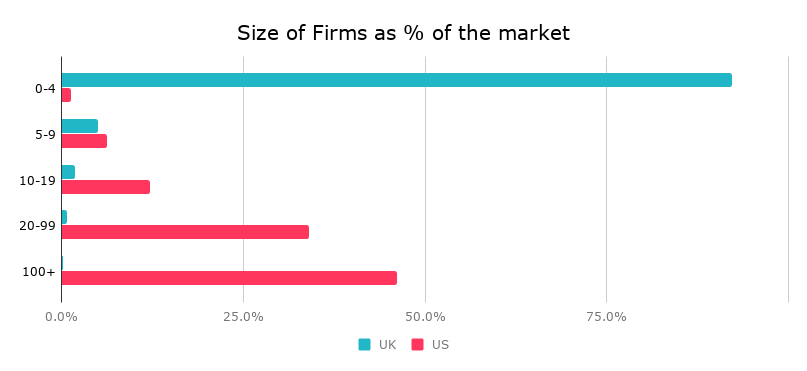 What does the cost structure look like?
Employee expenses within the photography industry are much higher in the US than those in the UK, due to the number of larger firms with the majority having 100+ employees. 

Depreciation costs are roughly the same in both the US and UK markets and this is perhaps no surprise since the equipment and technology used likely comes from the same manufacturers. 
Purchases account for a large percentage of operating costs, which include equipment, materials, parts and other supplies. Other costs include:
Outsourcing – some photographers may choose to outsource digital editing and enhancement of photographs to external providers who have the skills and resources to undertake the work.
Software – those choosing to carry out their own digital editing and enhancement will need to invest in editing software such as Adobe Photoshop. For those wanting to provide a top-quality all-round service including photography and post-shoot editing, these software licenses can often run into hundreds, even thousands of pounds per year.
Marketing – the perpetual rise of the internet and social media platforms has given businesses new opportunities to connect with customers. Those not making the most of the opportunities presented will likely fall by the wayside, as more and more photographers share their portfolios online and build a following. 
Who are the Buyers and Sellers?
Key buying industries include magazine publishers, estate agents, advertising agencies and travel agencies, all of whom require high-quality professional images for their campaigns and publications, both online and offline. Additionally, consumers are a principal client for most operators, particularly for portrait photographers, wedding photographers and film processers.
The printing industry is a key seller in the supply chain, since they are able to carry out high-quality printing of professionally taken photographs. Other key selling industries include paper and paperboard manufacturers who supply specialist paper to the photographic industry, as well as businesses selling equipment to professional photographers and repairers of electronic and optical equipment.
Opportunities to Succeed in the Photography Industry
Investors and business leaders know that it's much easier to succeed in a growing industry than a shrinking one. There are, however, exceptions to this rule and these exceptions require intense levels of innovation in order to succeed. Establishing a good reputation and building a loyal customer base is another critical element for those wanting to succeed.
With low barriers to entry and limited economies of scale, the industry allows small businesses to compete effectively against larger ones. Opportunities to succeed in the industry include:
Technology
Technological advances allow opportunities for businesses in the photography industry to promote themselves with lower costs than traditional print advertising. Portfolio sites can be relatively easy to set up and the use of social media allows providers to build their reputation through showcasing work and positive reviews. Of course, technology has also allowed for the faster processing of images, particularly digital photography. With consumers expecting products and services to be delivered quickly and efficiently, speed of service is a key factor in consumer considerations when choosing a photographer.
Innovation
In a fragmented industry such as photography, providing innovative solutions can help a business outperform its peers. Technological, process, product and cost-savings innovations can be undertaken by businesses within the photographic industry to ensure survival and profitability. As explored above, speed of service is a key consideration and this can be delivered through technological advances, as digital photography takes over and processing of images becomes faster and more efficient. A key example of innovation from industry operators is the development of mobile apps which allow private customers to access galleries online and share photographs on social media.
Upselling
In addition to photography services, the ability to provide extras such as digital colour management (or retouching), video work, printed albums and canvases gives operators an opportunity to expand their service offer.
Overall competition is expected to remain high within the industry, with traditional players expected to leave due to being unable to keep up and compete in the changing environment in which they're operating. Additionally, pressure will come from more hobby photographers entering the market and the accessibility of quality digital and smartphone cameras. Whilst demand for high-quality photography will be less affected in the commercial market, pricing will remain a key competitive factor, as well as the ability to stay innovative and abreast of technological developments. 
In the next chapter, we examine the products lines and key markets currently available within the photographic industry
---
Resources:
IBISWorld Industry Report M74.200 – Photographic Activities in the UK, September 2018
Kentley Insights – 2019 Market Research Report: Photographic Services, June 2019
---
Contact Splento if you are in need of:
Event Photography and Videography