Ran out of inspiration for your next beer-cation? Think you've sampled every authentic brew in the US? Or perhaps you are new to the game? Not to worry, this article will take you on a journey of discovery through US cities renowned the world over for their craft brewing scenes. Serving the interests of aficionados and amateurs alike, here is a list of 10 dazzling destinations to discover on your next beer-themed getaway.
 San Diego, California
Home to more than 150 craft breweries, San Diego has long been a favourite among beer connoisseurs and was recently crowned "Craft Beer Capital of America". Whereas some cities have only recently caught the brewing bug, San Diego has a deep-rooted craft beer culture dating back to 1953 (ancient by American standards!) You may have already visited, but due to the endless amount of options on offer, we urge you to get your next fix of San Diego beer.
Editor's pick: Karl Strauss Brewing Company, Modern Times, Pure Project
 Hot Tip: If you're interested in more than simply the taste of beer, hop over to the Brewchives at Cal State San Marcos Library to understand the city's extensive brewing history. 
   Denver, CO
Second only to California with the number of breweries in the state, it is definitely fair to say that Coloradans are brew fanatics. Denver, in particular, is snapping at the heels of San Diego, hungry to claim the coveted "Top Beer Town" title. Already famed as a popular destination for skiers and naturalists, Denver is a brew-lovers paradise! Brewers here are particularly innovative with their creations; if you're eager to try something different, how about the Graham Cracker Porter from Denver Beer Co.? 
Editor's pick: Rock Bottom, Denver ChopHouse and Brewery, Wynkoop Brewing Company
Hot Tip: Book your spot on the LoDo Craft Beer Tour – a 1.5 mile walking tour where you get the chance to sample beers from 4 craft breweries in Downtown Denver.
  Portland, Oregon
A self-proclaimed "Beervana", the Rose City's breweries have a style which broadly centres around the respect for, and devotion to, European classics. You do not have to go far to find a good quality Belgian or German beer and the talent in Portland is overflowing.
Editor's pick: Von Ebert Brewing Pearl, Rosenstadt, Upright Brewing
Hot Tip: Plan your trip to coincide with one of the city's famous Beer festivals, or better yet, go in July (Oregon Craft Beer Month) and experience Beervana!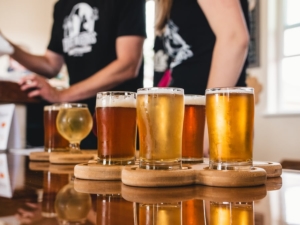 Austin, Texas
It turns out America's live music hub is also one of the country's most prolific producers of beers, with craft breweries on almost every corner! Whether you are well-versed in beer or merely an amateur, Austin truly has something for everybody. Don't hesitate to hop over to some of the lesser-known breweries that are taking Austin's craft brewery scene by storm (see Editor's pick).
Editor's pick: Batch Brewery, Hopsquad Brewing, Beerburg Brewing
Hot Tip: Combine Austin's live music, restaurant and beer scene by stopping at the Austin Beer Garden Brewing Co. where you can enjoy your favourite brew alongside a mouth-watering pizza, all whilst grooving to live tunes.
   Cincinnati, Ohio 
If you're a fan of the good old-fashioned German brew, look no further than Cincinnati to quench your thirst. Beer has been a way of life for centuries here, as it first arrived on the backs of German immigrants in the 1800s. Ever since, Cincinnati has been known for its appreciation of authenticity and tradition over wacky blends. Hints of the city's European roots are unmissable, such as the Over the Rhine neighbourhood or the historic brewery Rhinegeist. 
Editor's pick: MadTree Brewing, Taft's Ale House, Rhinegeist
Hot Tip: Don't miss out on the city's annual Oktoberfest, which is the biggest outside of Munich!
  Asheville, North Carolina
Asheville has come on in leaps and bounds in the brewing world in recent years. A relative latecomer to the industry, Asheville's breweries first surfaced in 1994 and have blossomed since then. Their impressive work-ethic has earned the city a consistent spot in the top 3 US cities for breweries per capita. Head to the South Slope neighbourhood (aka the "Brewery District") to get your fix of hoppy brews.
Editor's picks: Highland Brewing Company, Green Man Brewing Company, Catawba Brewing Co.
Hot Tip: Asheville Brewing Company is not to be missed – alongside the extensive beer list, this establishment offers delicious pizza and $3 film shows. What more could you want?
   Boston, Massachusetts
Boston may not immediately strike you as a typical craft beer city due to its cosmopolitan nature, however, it has a thriving craft beer culture dating back hundreds of years. Being one of the first American cities, Boston has been a prominent craft beer destination for centuries. The city's size acts to its advantage, as brews range from small and local to world-famous and large-scale. Whatever your preference, make sure not to miss this city bustling with brews!
Editor's pick: Trillium Brewing Company, Night Shift Brewing, Harpoon Brewery
Hot Tip: If there is one thing not to miss, it's Boston's Brew at the Zoo; a much-loved annual summer event whereby you can enjoy an evening stroll around the zoo whilst sipping over 40 local brews! Better yet, all proceeds go towards education and conservation initiatives at the zoo.
  Burlington, Vermont
If you're the type to enjoy a hoppy brew alongside some local eats after a scenic bike ride, Burlington is the place for you. Located in the picturesque mountain state of Vermont, this town is known for attracting gastronomes, adventure-seekers and above all, craft beer enthusiasts! Come to Burlington and enjoy the best things in life, fresh air and beer!
Editor's pick: Foam Brewers, Burlington Beer Co., Zero Gravity 
Hot Tip: If you don't only have a penchant for craft beer, head down to Citizen Cider in the South End of the city to sample tastes from an industry in its infancy. 
   Grand Rapids, Michigan
Voted "Beer City USA", "Best Beer Town" and "Best Beer Scene" in national polls, I think this city speaks for itself when it comes to its stellar reputation as a craft beer lover's paradise! The city's insatiable appetite for beer is unavoidable when you roam the streets, as you can always count on spotting tourists and locals following the famed Beer City Ale Trail, which includes more than 80 breweries throughout the city.
Editor's pick: Atwater, Founder's Brewing, City Built Brewing Company
Hot Tip: Become a Brewsader – download the App, collect stamps from 4 of the craft breweries along the Beer City Ale Trail and collect your T-shirt souvenir!
  Philadelphia, Pennsylvania
Much like Boston, Philadelphia surpasses a lot of cities on the list in terms of size and is not known simply for its craft beer! Although Philly no longer boasts 700 breweries as it did before the Prohibition, nowadays there are more than enough options for visitors to choose from. Philadelphia is home to one of the most famous breweries in the US, Victory Brewing Company, which certainly merits a visit. 
Editor's pick: Victory Brewing Company, Imprint Beer Co., Fermentery Form
Hot Tip: We recommend visiting in the summer months in order to make the most of the array of beautiful beer gardens whilst soaking up the summer sun.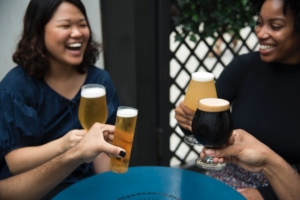 ---
Contact Splento if you are in need of:
Event Photography and Videography