Crystal ball photography is becoming more popular than ever as more and more people experiment with abstract photography.
Making use of crystal balls, more commonly known as lensballs in the world of photography, crystal ball photography uses refraction to capture a scene beautifully clear yet distorted within a glass ball. The refraction, or bending of light, means that the image is inverted in the glass, meaning you can capture scenes upside down or back to front in ways you might never have managed to before.
Interested? Here are some crystal ball photography tips and ideas for you to experiment with at home or out and about.
1 – Use a tripod
The stability a tripod provides is often invaluable. Crystal ball photography often features a close-up shot of the ball, so the stability from a tripod helps stay in focus to get that sharp shot.
A great strength of crystal ball photography is that it's easy to experiment with different angles to capture entirely different shots. A tripod can help you take photos from angles you might not be used to or might not be comfortable taking pictures from, such as from a bird's eye view. 
2 – Use the right lens
Again, chances are that you'll be taking a close-up shot of the ball when playing with crystal ball photography, so the best option will likely be a macro lens. Using a macro lens will ensure you capture a clear, detailed shot of the scene in your lensball. A macro lens can also help achieve bokeh around the ball, which not only increases the aesthetic quality but helps direct attention towards the scene within the ball itself, not around the ball.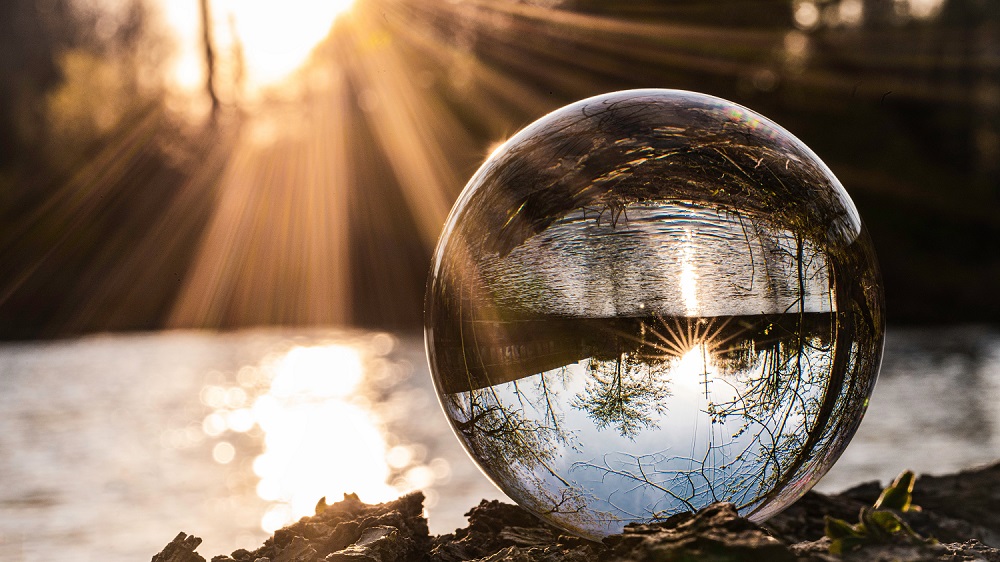 3 – Secure the lensball
Being made of glass, it's easy to see how a photoshoot with a lensball might suddenly turn into a disaster. Make sure to secure your ball to avoid damage, but also to make sure you get clear shots without your lensball rolling away in the wind or on an uneven surface.
Find a nook or crevice to safely place your ball in, or invest in a lensball holder or crystal ball holder if you plan on using your ball frequently. Some holders can even hold the ball midair, which can put a different perspective on your scene.
If it comes down to it, you can always hold the ball or get a friend to hold it for you. In fact, including a human element in a crystal ball photo can add a sense of connection as well as more action to the photo.
4 – Use a reflective surface
Because a lensball refracts the light, the image will always come out flipped. What was on the left will now be at the right, what was upright will be turned upside down. More often than not, this is the desired effect so no change will be necessary, but in the instance where you want to shoot the scene upright in the ball, capturing the ball on a reflective surface will capture both the image from the ball and the desired image.
Alternatively, you can always flip the photograph in post-production so that the scene within the ball is upright and the original scene outside the ball is reversed instead, or use post-production to simply flip the reversed image in the ball so that it acts more like a distorted magnifying glass against the background.
5 – Get up close to your subject
Getting the right distance between you and your scene can be tricky at times. If you're not close to your photo subject, they'll appear extremely small in the ball itself.  
The best way to measure this is to simply (where it's safe) take the ball out and check how your subject looks as you walk closer or farther away from it.
6 – Choose the right ball size
There are multiple different sized balls with different strengths and weaknesses. For lensballs, there are two different sizes: the 60mm ball and the 80mm ball. If you're looking for a bigger or smaller ball, you can easily use alternatives to lensballs such as glass balls or marbles.
When starting out, learning crystal ball photography using an 80mm lensball is recommended. The ball is not so big that it is hard to carry around, and is much easier to catch an image in than a smaller ball. Smaller balls like the 60mm lensball can create a much more distorted image (which is great if you want to take a more artistic snap!) but can fit into more nooks and crevices.
7 – Play with colour
Light can be used in all sorts of ways to spice up your crystal ball photograph.  Capture sunrises or sunsets to get breathtaking serene shots. The beauty of the ball is that any sunlight is less likely to glare, making for a crisper shot of the horizon.
You can even use coloured glass balls to add a different accent to your photo. While the image might not be as clear or detailed, different colours will create different effects in your photos. For example, a yellow-tinted crystal ball might make your scene look more old-fashioned and aged, while a green-tinted crystal ball might instead develop a more natural image or a blue-tinded ball makes a more aquatic image.
Playing with crystal ball photography is already an experimental activity, so don't be afraid to get creative by playing with your scenes and turning them into something else.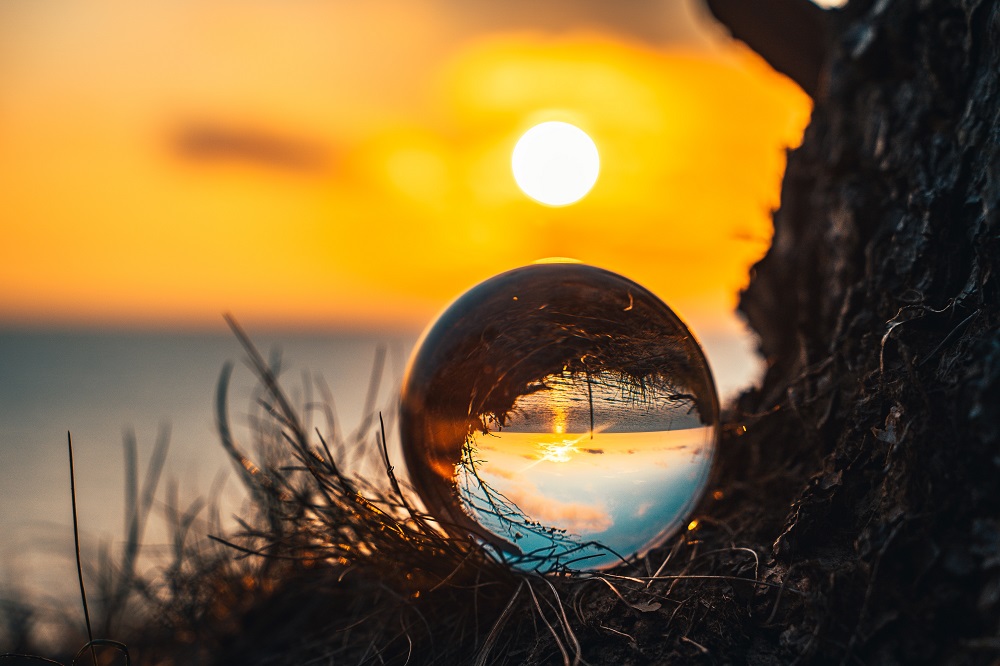 8 – Use multiple crystal balls
The scene captured inside a crystal ball will be unique based on its angle. How the lighting hits, how the edges are distorted, and what actually fits into the scene is all based on where the ball is placed and the angle you take the photo from.
By photographing several balls in one image, you can capture several different stories at once. A ball placed higher up to the right of your picture will capture an entirely different scene to another ball placed lower down towards the left. You could even use this as a way of directing the focus in different places while leaving out whatever your balls don't capture.
To be even more creative, you might decide to use differently sized and coloured crystal balls. With this, you can even capture the same scene but tell different stories, especially with different coloured balls.
It's worth noting, however, that to create a more focused and detailed image, just a single ball is often the best choice.
9 – Flip the horizon
A shot loved by everyone: try taking a picture of the horizon. Particularly when the sun is rising or setting, this makes for a stunning shot. Take a picture of the horizon as flat as possible through your crystal ball, inverting the perspective of the world at the edges of the ball. The colours inside the ball contrast to the colours outside the ball, creating a landscape photo full of colour and perfectly symmetrical.
10 – Altitude
When taking a photo with a crystal ball, altitude is very often the key to what ends up being captured. If you place your ball closer to the ground, you'll get less of your subject and more of the actual ground itself. For example, if you were to take a picture of the sun setting at the beach, and you placed the ball on the sand itself, a lot of your scene will be filled up with sand rather than the sun in the sky.
On the other hand, if you place your ball higher up, you'll capture more of the whole scene and less of the ground. In this instance, placing your ball on a rock or holding it mid-air would allow you to capture more of the sun, sky and ocean, and less sand.
Finding the right height to take your photo from shouldn't be too hard, but it's always worth playing with to see if there's a better angle for you to take that perfect shot.
---
Where to buy a crystal ball for photography
Crystal balls are easy to get hold of, but finding the right crystal ball for your photography is sometimes a bit trickier.
The two biggest companies for purchasing balls for photography are Lensball and Refractique. While a bit pricier, these companies offer a great standard of quality using a K9 glass, perfect for photography. Additionally, both of these companies offer a range of other products to compliment your crystal ball photography, such as clear glass stands and tripod mounts.
You can also pick up a greater range of crystal balls simply from the internet or sometimes even from a local market. While these balls might sometimes be of lower quality, they come in a greater range of colours and sizes, fitting all of your crystal ball photography needs.
---
While crystal ball photography can be a little tricky to get right at first, the results are often spectacular and offer a different twist on the world of photography. I wouldn't be surprised if the photos you take with a crystal ball turned out to be some of the most creative and interesting photos you've ever taken. We hope these tips and ideas helped inspire a very popular hobby, and help ease you into the world of crystal ball photography
Do your crystal ball photographs require a bit of a touch-up? Take a look at our Photoshop vs Lightroom post to find out what post-production software is best for your pictures.
Alternatively, Splento offers professional touch-ups from as little as £0.49. All of the details can be found here, along with the tool to easily upload your images to us for re-touching.
---
Contact Splento if you are in need of:
Event Photography and Videography