Easter gift ideas 2022
Easter is approaching, and many of us are on the hunt for a good present as well as Easter eggs! If you really enjoy the Easter festivities and are looking for some inspiring Easter gift ideas in 2022 for your loved ones, this is the post for you. 
We're covering the top Easter gifts for everyone. Yes – everyone! From Easter gifts for kids in 2022 to Easter gifts for adults, and even Easter gifts for her and him.
---
1. Simnel cake – for families
Want to give traditional Easter gifts to your family? Look no further than a Simnel cake which is traditionally served at Easter. The cake is packed with delicious and candied fruits and is adorned with eleven marzipan balls which represent the eleven apostles of Christ. This Easter, you can get your delicious all-butter Simnel cake from Sainsbury's. This is a great Easter gift for families which everyone can enjoy.
---
2. Easter basket weaving kits – for kids
If you're in the market for homemade Easter gifts for adults and kids to do together, the Baker Ross Easter Weaving Baskets available at Amazon are perfect. This fun activity will entertain the kids and can be also used to collect their Easter eggs on the obligatory hunt.
---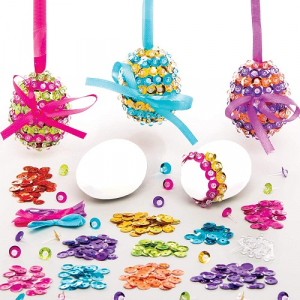 3. Sequin Easter eggs – for kids
Another homemade Easter gift for kids to make is the Baker Ross sequin Easter eggs available at Amazon. Kids can get into the Easter spirit by creating some dazzling Easter eggs using this sequin craft kit which they can then proudly display in your home.
---
4. Decorate-your-own ceramic eggs – for kids
Another great option for homemade gifts for kids is the Baker Ross ceramic egg kits from Amazon. These hard-wearing ceramic eggs come ready to paint, making them perfect for kids to decorate. They can be decorated using acrylic paints or paint pens, and you can even add glitter or embellishments for an artistic touch. 
---
5. Egg surprise plush – for kids
The Egg Surprise Plush from Sainsbury's makes an endearing Easter gift for children. Either a plush calf, lamb, or chick hides inside a soft egg lining, and is sure to delight them.
---
6. Peter Rabbit mug and Cadbury's Easter egg – for kids
If your child loves Peter Rabbit, then be sure to snap up this Peter Rabbit mug and Easter egg at Sainsbury's. The set includes a Peter Rabbit mug, Dairy Milk Easter egg and a bag of mini chocolate eggs.
---
7. Easter egg wreath – for adults
A wonderful gift for adults is the Easter egg wreath from Waitrose. This beautiful pastel wreath is decorated with eggs and flowers, making it the perfect Easter addition to the home. This can be hung outside on the front door, or even placed inside to enjoy.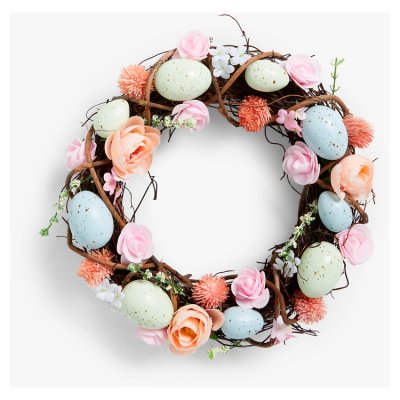 ---
8. Beaded wildflower daisy chain friendship bracelet – for her
Want to give a special Easter gift that's a bit different from chocolate? This beautiful blue, white and gold daisy chain bracelet from Estella Bartlett would make a lovely present for a sister, friend, or girlfriend.
---
9. L'Occitane refreshing verbena Easter egg – for her
For the woman in your life who loves aromatherapy and delicious scents, get her the L'Occitane Refreshing Verbena Easter Egg. This decorative egg-shaped tin encases a 70ml Verbena Shower Gel, a 50g Verbena Soap, and a 10ml Verbena Hand Cream.
---
10. A very happy lush Easter bath set – for her
This Easter gift box from Lush includes five Easter-themed bath treats which will be perfect for the woman in your life to unwind with. It includes The Easter Bunny bubble bar, the Dragon's Egg bath bomb, the Flamingo Egg bath bomb, the Rainbow mini bubble bar, the Disco Duck bath bomb and a Happy Easter Lokta banner.
---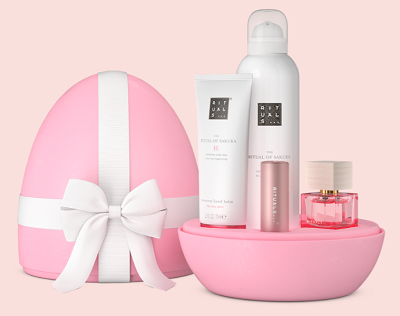 11. Rituals Easter egg gift set – for her
Another luxurious gift set for her is the Rituals Easter Egg gift set. Each set comes beautifully packaged in an egg, with a 200ml foaming shower gel, a 70ml hand balm, a 4.8g lip balm and a 15ml Eau de parfum.
---
12. Milk chocolate football boot model – for him
The Milk Chocolate Football Boot Model from Thorntons is the perfect gift for any football enthusiast this Easter. This football boot is almost too good to eat and can be personalised with his name.
---
13. The Easter sleekster box – for him
For the man who loves chocolate, get the indulgent Easter Sleekster box from Hotel Chocolat. The box of 30 gourmet chocolate eggs includes caramels, pralines, tipples and more.
---
14. Charbonnel et Walker mini white chocolate truffles – for everyone
For truffle lovers, this gift is a must. Charbonnel et Walker have made white chocolate truffles in the shape of mini eggs for Easter. These luxurious truffles come in an egg-shaped box with Peter Rabbit images on the front.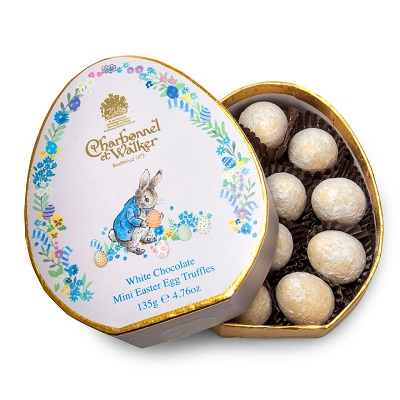 ---
15. Chicky choccy treats Easter letterbox gift – for everyone
The Chicky Choccy Treats Easter Letterbox Gift from M&S, is quite literally for everyone to share! This generous Easter hamper can be posted via a letterbox but manages to squeeze in: 4 x Bubbly Bunny, Chicky Choccy Speckled Eggs (90g), a Net of Choccy Eggs (130g), a Net of Caramel Eggs (120g), 2 x Orange Speckled Eggs (75g), and Milk Choc Corn (175g). 
---
Happy Easter!
If you're spending your Easter weekend with your loved ones, how about capturing the special Easter memories? Booking a photographer to take some beautiful professional photos this Easter could be the perfect gift.
Splento allows you to book a photographer when and where you need them, delivers your photo in 24 hours all at £99 an hour. For a convenient and affordable Easter photoshoot, book with Splento. 
---
Contact Splento if you are in need of:
Event Photography and Videography
eCommerce Photography and Videography