So you want a great video – how do you find a great production company to help you achieve it?
A few months ago, we looked at 5 video production companies in London and made a comparison.
Today, we have repeated this exercise, but broadened the geography to cover the UK.
There are any number of companies around you, wherever you are, but separating the good from the great is not always an easy task.
One place to start looking is at recognised review sites – these do more than just give a 5-star rating, they dig deeper and provide as much information as they are able to.
---
Clutch.co is a great example of this – they go even further and interview clients in depth about their experiences of working with the company they are reviewing – so you can really get a feel for the prospective video producer before you even approach them.
So here's an overview of just 5 of the many companies taken from around the UK – so they'll be one near you. Although, as you will find, most video production companies will cover most parts of the UK, and some even have coverage internationally.
Stormy Studio in Plymouth are an animation studio who "put quality design & originality at the heart of everything we do" (and also provide some live film services as well). Bearded Fellows (Manchester) are an animation and video agency for brands, agencies and organisations. Speakeasy, with a base in Edinburgh, describe themselves as creating inspirational corporate films that change the way people think, work and live their lives. 2020 media International (Leicester) cover every base for services and locations.
Naturally, we are also on the list as a great comparison. Although Splento (as you may know) have full international coverage – even at short notice – we have our base in London, and from there offer a full range of videography services to the UK.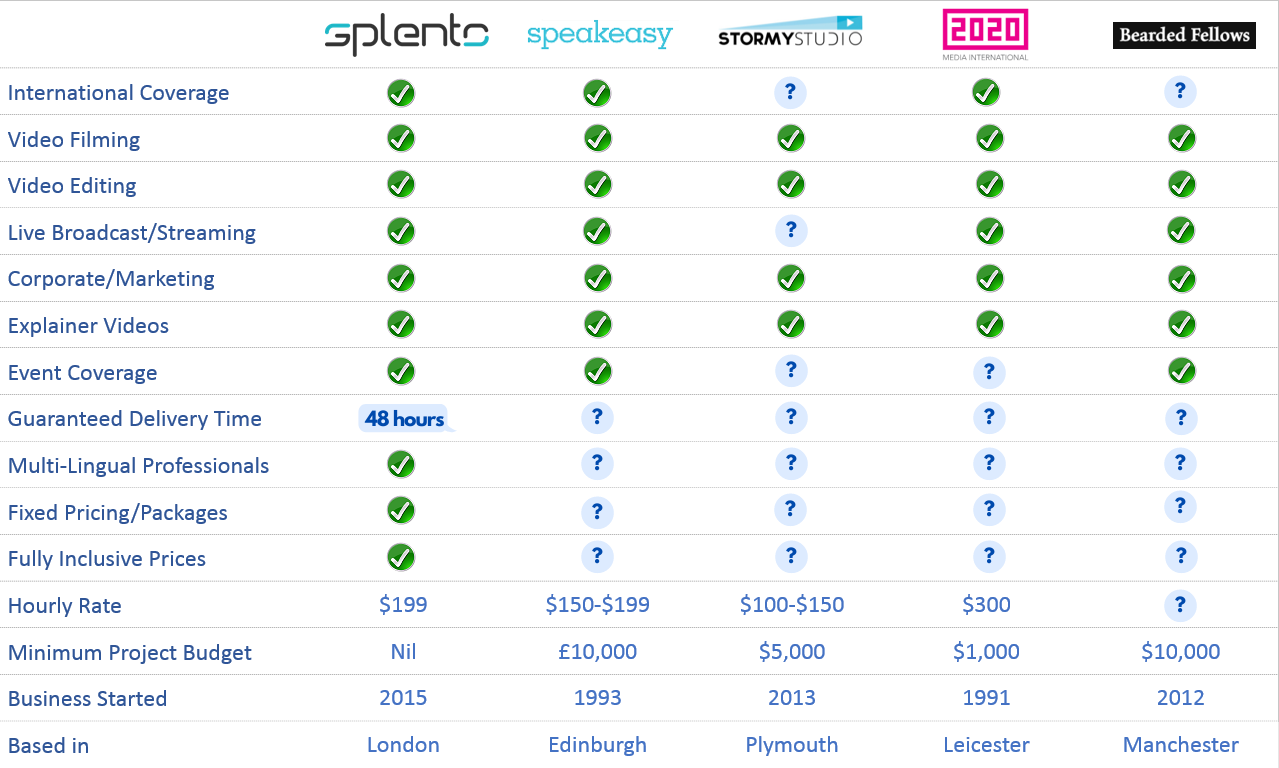 For great video, you don't just need a great production company, you need a great partner.
One that will work alongside you.
One that is adaptive and will work to your schedule – not theirs.
One that understands you have a budget.
One that speaks your language.
When you need a video, it's your choice of production partner that determines its success.
You need a team that intuitively understands your business and how to communicate your message with impact. One that has the flexibility to work the way you work, where you are, and to your brief and budget.
You need a team that makes your life easier.
If you are looking for a London videographer then look no further. Or for any other locations, either in the UK or internationally, contact Splento today to find out how we are able to respond at short notice, and deliver your professional, finished videos in 48 hours.